An Amazon gift card is a card that is pre-loaded with a specific amount of money and then sold or sent to a specific recipient by email, mail, or another form. The user can use their Amazon gift card to purchase something on Amazon. On the dedicated page on EZ PIN, you can order Amazon gift cards.
EZ PIN sells Amazon Gift Card in denominations of $15, $25, $50, and $100 with no sales fees.
Different Types of Amazon Gift Cards
Amazon eGift Card
The eGift card is delivered via email. You have the option of selecting a preset number or entering a custom amount. You can also send it to a large number of customers at once if you're ordering for a group. If your payment cards are in good working order, this gift card will be shipped within few minutes.
Print at Home Amazon Gift Cards
After you enter an amount message and quantity, and make the payment, a PDF print at home gift card will be sent to you. You can then print it at home and further customize it if desired. After purchasing, you can also download the print-at-home PDF from Amazon's Orders site.
Gift Cards by Mail
Gift cards sent by mail can be more personalized and come in a variety of packages and designs. If you've chosen our preferred package and design and pay the price, EZ PIN will send the package to you. Free shipping is normally available here for two to three days.
Gift cards can also be personalized for specific occasions, such as:
Birthdays
Mother's Day
Father's Day
Wedding
Congratulations
New Baby
Thank You
Workplace
Graduation, Promotions, and so much more.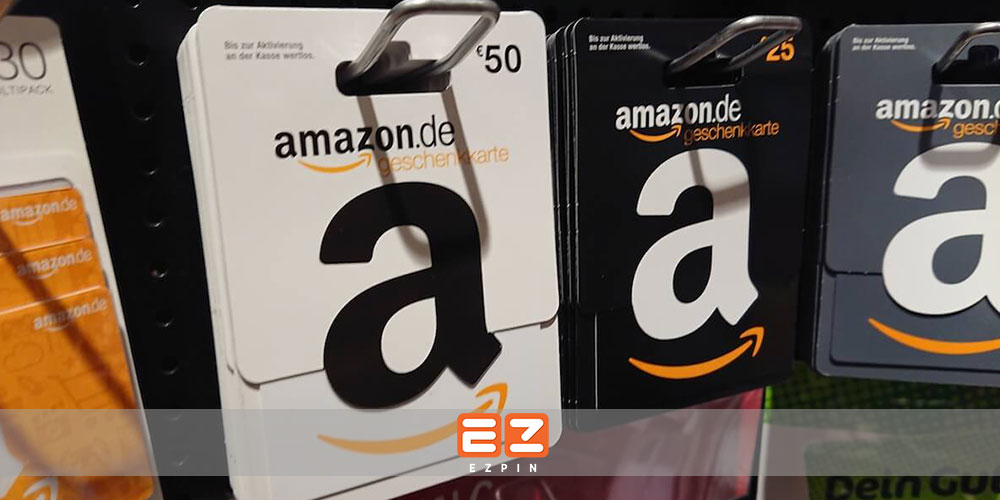 Best Features of Amazon Cards
EZ PIN's gift cards come with a range of customization options as well as other useful features:
Your customers can personalize their Amazon gift card by writing a message on it.
On EZ PIN, your customers can choose from hundreds of different designs.
Your customers will choose the date on which they want the card to be sent to the recipient.
Amazon gift cards have no expiration date and are free of charge.
The gift cards can be used to purchase over a million products on Amazon and some affiliated websites.
How to Redeem an Amazon Gift Card
If you've just been ordered Amazon gift cards from EZ PIN (Lucky you!), there are two easy ways to use it. Your customers have the option of transferring the balance to Amazon account and saving it for a potential order, which is a good choice if they don't want to risk losing the physical card, or they can wait until they've found what they want to buy and then enter their gift card details as a payment method.
This guide will walk you through both the website and the Amazon app for redeeming Amazon gift card. You'll need the claim code regardless of which form you use. This is hidden under a protective film or sticker on the back of the gift card. If you have a digital gift card rather than a physical one, the claim code can be found in the email we sent you. Have fun selling, redeeming, shopping!
Go to Amazon.com using your web browser (Safari, Firefox, Chrome, etc.).
Sign in and press "Accounts & Lists" to the right of the search bar to go to the "Your Account" tab.
Pick "Gift cards" from the "Your Account" tab.
You've arrived at the gift card balance page, where you can check current balance as well as previous purchase history. To redeem a gift card, go to "Redeem a Gift Card."

Note
Instead of using a gift card, you can use "Reload Your Balance" to add funds from a bank account or credit card.
If you've entered the claim code on the back of the gift card, Amazon will tell you how much money is left on the card. To move the funds to your Amazon account, click "Apply to your balance."
The transferred funds will now be reflected in your account's gift card balance. The funds will be available for use the next time you make an Amazon order.
Redeem Amazon Card When Purchasing a Product
Go to Amazon.com and create an account.
Locate the item you wish to purchase and select "Add to Cart."
If you want to purchase additional goods, locate them and add them to your cart. When you're done, go to the top right corner and press the shopping cart button, then "Proceed to checkout."
Continue to the payment process page by clicking through. Enter your claim code in the "Gift Cards" section.

Final Words
EZ PIN has a wide range of gift cards and game cards. 24 hours a day, 7 days a week, get instant digital distribution, superb customer service, and supreme payment comfort!