Gift cards are essential for expanding your business and keeping customers loyal. When utilized to drive traffic, collect email addresses, and generate social media buzz, gift cards can be an even better source of new and returning consumers. What we've assembled here are sensible techniques for promoting gift cards on social media channels to help you grow your business. In other words, we will tell you how to build business using gift cards and social media.
Run A Gift Card Promotion
During a specific timeframe, ask your social media followers to sign up for your email list. Tell them every signup offers them a chance to win. Make the value of the gift card apparent, and make sure the quantity is appropriate for your fans. If they don't win, send them an email with another offer, such as a small discount if they mention the promotion when they come into your store.
Run A Photo or Writing Contest
Request that your followers send you a photo of your goods or services. Alternatively, invite your fans to create a poem about your items. Alternatively, well, you get the picture. Finally, the best photo, poem, or other submission receives a gift card as a prize. If your contestants don't win, surprise them with consolation rewards.
Give A Gift Card to The Most Social Person On Your Page
Run a social media contest to award the individual who receives the most likes, comments, and shares, among other things. They're promoting your business, so thank them!
Reward Referrals
Give each customer who sends you a recommendation a gift card. Make sure to establish what qualifies a referral as viable for you, and don't be afraid to set a deadline.
Let Your Customers Name Your Next Product or Service
If you're launching a new product, why not start building excitement and engagement by allowing your customers to help name it? The client whose name was chosen receives a gift card, with all other participants receiving a bonus prize or discount.
Give A Gift Card Code On Social Media but Require In-store Use
This one can be tough, but it can also be quite profitable. Online, announce a gift card offer to all social media followers. Give your followers a word or phrase, then ask them to come into your store and inform the sales staff so they may get the gift card.
Tips for Making Your Gift Card Giveaways Go Further
For easier sharing and tracking, give your giveaway its own hashtag.
To appeal to diverse customer demographics, vary your competitions and giveaways.
To keep clients coming back for more, find a way to combine online and in-person encounters.
Gift Cards Can Help Make Your Social Media Marketing Profitable
Gift cards are a cost-effective and efficient approach to increase social media participation and loyalty. Contact us or visit us online at EZ PIN if you're ready to incorporate gift cards into your social media campaign.
Over the last few years, gift cards have become increasingly popular. Nearly 60% of shoppers and resellers plan to buy gift cards for their families, friends, coworkers, and customers in the near future. It's a win-win situation when you can get your favorite gift cards at EZ PIN.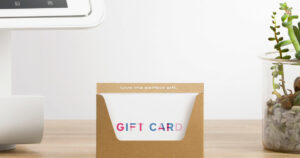 Gift Cards Enhance Revenue During the Global Pandemic
As small and medium-sized businesses reopen, having the correct Gift Card available for clients to purchase could be the income boost that distinguishes your company from the competition.
Here are three reasons why a gift card is necessary for businesses that will reopen after COVID-19 Pandemic.
Up Front Revenue
Gift cards can give your business or company the boost it needs today, when traffic may be slow and maximum building capacity constraints still apply. Setting up the possibility to buy gift cards without having to enter the store reduces the amount of people who are just searching to buy a gift card. Offering your gift cards for sale on your website is a great method to sell them without disrupting your business.
Raising Brand Awareness
With every sale, gift cards give you the unique opportunity to put your brand in the hands of your current and prospective new customers. Did you have to rebrand or rebuild your logo during the lockdown? Gift cards are an excellent area to include new information and pictures that will persuade buyers to return to your store.
Reloadable
When you choose a reloadable alternative, clients can quickly add funds to their gift cards, they carry on giving. They also minimize touch with customers, thanks to today's level of enhanced safety and sanitary protocol. Reloadable gift cards might even include a QR code to your website, allowing users to get straight to the source fast and easily; as what we have in EZ PIN.
Why EZ PIN?
Quick and Easy. Your Gift Card will be available in minutes after you make your order online.
A lot of choices. Choose from a variety of gift cards and order your desired one.
Products for a Special Event. This is the ideal last-minute product for ceremonies, graduations, holidays, housewarmings, and more, with options for email, text, and print-at-home delivery.
Simple to Redeem. There is no need to carry or misplace a physical gift certificate. The recipient can redeem the monies at any time by going online. There are no monthly costs and gift cards never expire.
Final Words
EZ PIN has evolved and extended its products portfolio to meet the demands of all of its consumers and clients since launching its first office in 2020. EZ PIN has a wide range of gift cards and game cards. 24 hours a day, 7 days a week, get instant digital distribution, superb customer service, and supreme payment comfort!
Now that you know how to build business using gift cards and social media, let's be partners.