In the last part of the EZ PIN article series, we will introduce EZ PIN Accessories. The three most important products, which you need to know about, are POS (Point of Sale) Machine, In-Store Stand, and Display Stand. This article is more suitable for resellers.
EZ PIN was established with a single goal in mind: to empower and utilize gift cards as powerful branded payment instruments in stores, online, digital wallets, social media, applications, and games to increase and expand revenues! Brands were able to reach thousands of clients all around the world, thanks to our worldwide distribution channel and comprehensive distribution panel.
Let's start with the POS Machine and its features. A device that every reseller should have in his store.
There are two models for EZ PIN POS Machine:
This transportable POS device is ideal for pop-up stores, larger warehouses, and everything in between.   Also, this all-in-one POS machine with a receipt printer and barcode scanner is an excellent device for a mobile shop. EZ PIN SUNMI V2 Pro/V2 is a handheld solution that makes the checkout process flexible, convenient, and intuitive, while offering shop owners an economical Point of Sale.
EZ PIN Accessories: Sunmi V2 Features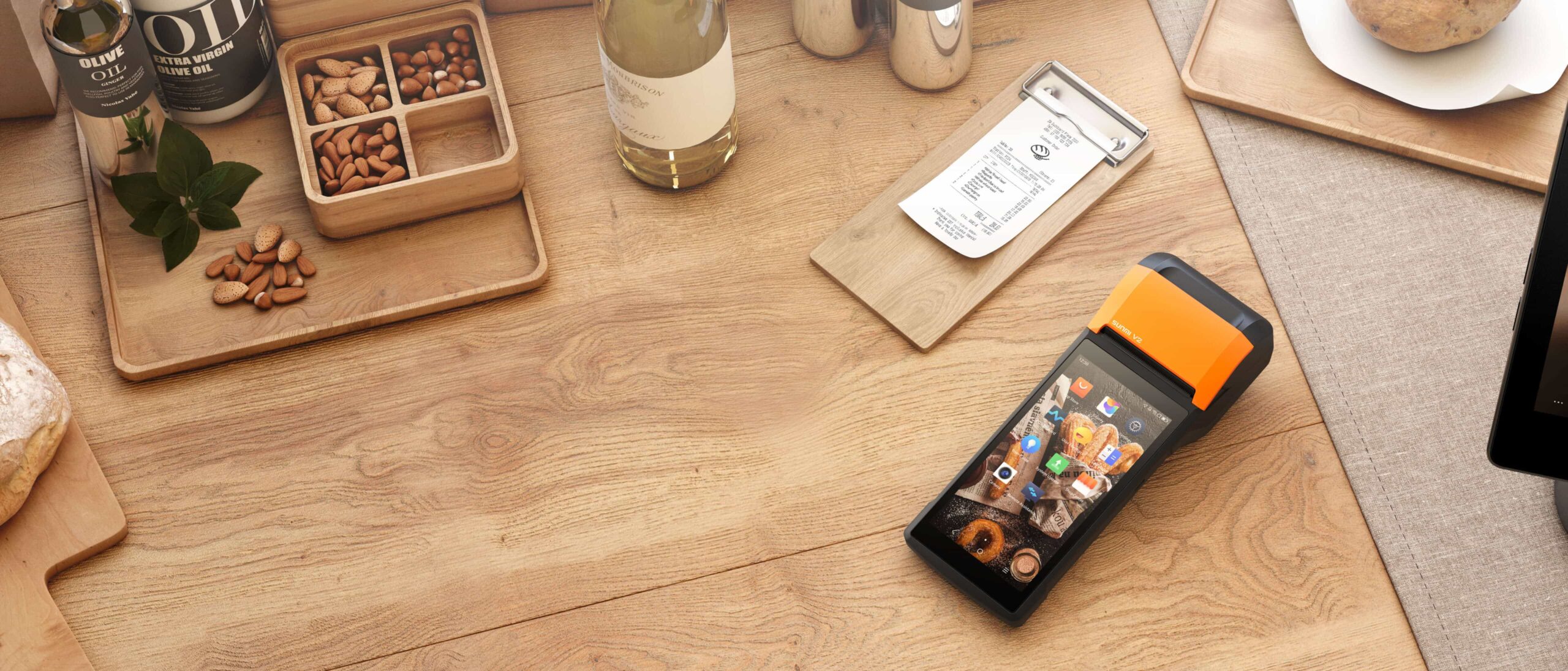 50mm/s Seiko Printer with Double Space for Till Roll
When compared to a device that employs a 40mm diameter till roll, the V2, which uses a 50mm OD till roll, can save you USD 0.001 per day on average (assuming one meter is utilized per day), which equates to USD 40 per year.
5.0 MP Camera with Flash and Auto Focus
The 5.0MP camera with flashlight completes with autofocus assures rapid scanning and error-free data collection even in poorly lit environments.
5.45" IPS Display
The 5.45″ IPS capacitive Full HD screen displays crucial information with pinpoint accuracy and provides a hassle-free user experience.
7.6V Lithium-Polymer Battery, Quick Charge, Long Use
Even in the most demanding scenarios, its high-capacity 2580mAh 7.6V Li-Po battery lasts the entire day. Even when the battery is nearly depleted, it never sacrifices printing speed. What's even better? It automatically prevents overcharge or over-discharge by taking into account typical user behavior, resulting in a much longer battery life.

Dual-Band Wi-Fi
2.4Ghz/5GHz Dual Band Wi-Fi boosts transmission speed and significantly reduces errors caused due to congestion of frequency.
4G Connectivity
Stay connected at anytime and anywhere.
eSIM Support
You can feel free to choose a network operator and use relevant services without installing any SIM card.
Sleek and Beautiful 17.8mm Body Thickness
Android 7.1/ Sunmi Cloud OS
You can now install all of the necessary programs to keep your device and information safe, thanks to the industry-leading OS.
SUNMI OS 3.0
Get stable, safer, and smoother performance with pre-installed Sunmi OS 3.0.
8GB ROM +1GB RAM
Enhance the consistency of software applications used to save devices from getting stuck or hot during peak hours.
GPS Equipped
Know and verify your device location for unified management.

EZ PIN Accessories: Sunmi V2 Pro Features
58mm Seiko Thermal Printer
A powerful print engine can help you grow your business. V2 Pro can print quickly and smoothly with a Seiko printhead and switch between receipt and label printing modes, making heavy printing work during peak hours a breeze.
*Only V2 PRO Label Version supports label printing.
7.1 Android / Sunmi Cloud OS
8GB ROM – 1 GB RAM
5.99" IPD HD+
5.0 MP with Flash and Auto Focus
NFC Compatibility
2580 Non-removable Lithium-Polymer Battery
Integrated GPS
4G Connectivity
Professional Barcode Scanner
A professional 1D/2D barcode scan engine can scan barcodes in all directions, even when the barcode is damaged, scratched, or stained.
* Only V2 PRO Label Version comes with a 2D barcode scan engine.

EZ PIN POS Machine Application
Although the installed application on EZ PIN POS Machine is very similar to the EZ PIN Mobile Application (Android Version), we will introduce different parts of it to have a better understanding of this application.
eGift Page
When you launch the device, the first page you see is the eGift page. On this page, you will see all the products available in EZ PIN.
These products are in the Global region by default. To change the region, tap the globe in the upper left corner.
Activate Gift Cards
In this section, you can activate gift cards individually or in bulk by entering the gift card serial number. You can also activate physical/printed gift cards by scanning its barcode via the professional barcode reader provided in POS Machine.
QR Code Scanner
Using QR code, the customer can scan QR code of the store without the need of an EZ PIN Mobile Application. This QR code is located at the top of the in-store stand and after being scanned by the customer's phone, it enters the reseller's catalog and the customer selects the desired gift card. To receive the code, he can enter his mobile number, WhatsApp, or email and then check out.
Finally, the QR code is given to the customer, who must give it to you as a reseller, and you scan it with the EZ PIN POS Machine and tell your customer the price of the gift card. Then you confirm the customer's information, take the money and register the gift card.
Orders History
In this section, you can see eGift, Physical.
Three-Dot Menu
If you tap on the three-dot menu at the top right corner of the screen, you can see Profile, Wallet, Print Order Reports, Print Product Report.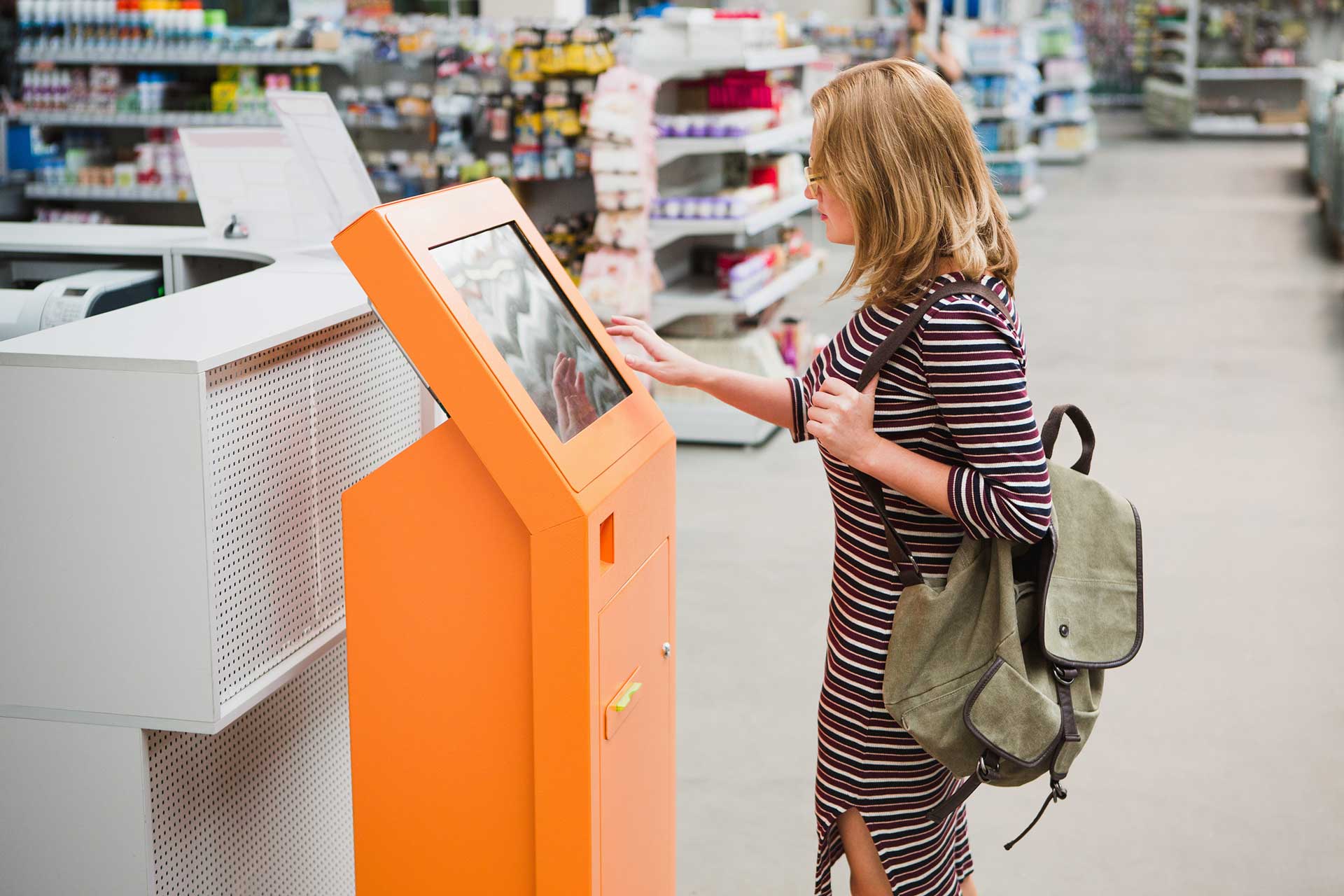 In-Store Stand
Each in-store stand has a unique QR code that corresponds to a certain store. The customer uses his phone to scan the QR code. This will open a link that lists all of the gift card brands available at the store. The customer selects a gift card, enters an amount or selects a predetermined amount, and then selects how to receive the code. He has the option of receiving it in person (printed by the EZ PIN POS machine), through SMS, WhatsApp, Email, or Print. A QR code appears on the customer's phone once he has completed all of the processes. You then log into the EZ PIN POS Machine, scan the QR code, and validate the card type and amount with the customer. After that, the customer completes the transaction and receives the gift card code. You can print the gift card code and its PIN using POS Machine.
The consumer can also choose a gift card with a fixed or personalized amount from the products displayed on the touchable screen of the display stand, as well as the delivery method. Once the consumer has made all the selections, a QR code appears on the display stand's screen, which the customer must present to the shop cashier to finalize the transaction.
Display Stand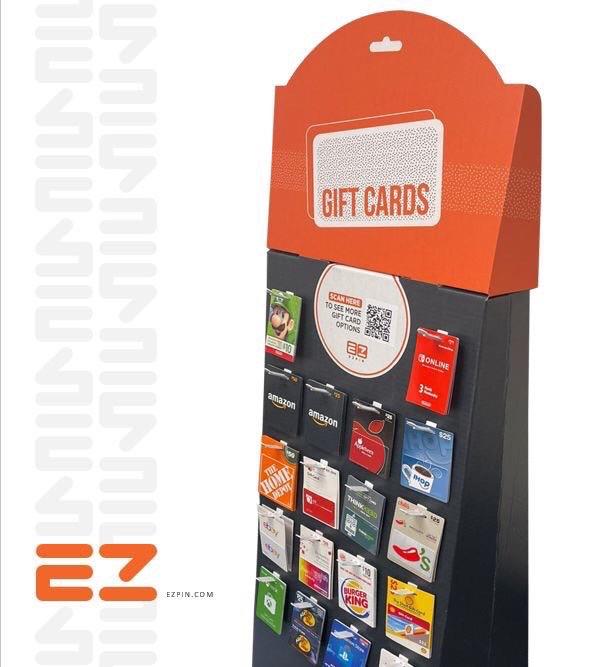 Another accessory is EZ PIN Display Stand, which has physical gift cards on it and you can use them in stores and shopping malls. Customers choose the gift card they want, pay for it, and you activate the gift card by scanning its barcode or serial number.
If you have any questions or concerns about EZ PIN Accessories, please do not hesitate to contact our support team.