If you plan to sell Xbox Gift Card, there are several things you should be aware of. Remember that this isn't a typical gift card (more on that in a bit). Xbox has a fantastic gift card because it can be used for so many things. Xbox Gift Cards are available on EZ PIN and you can order it today and enhance your sale.
Get Xbox Gift Cards quickly and conveniently online and extend your business. Your customers can active Xbox subscriptions, download games and applications, and even shop for a console with a single Xbox Gift Card. To buy gift cards, simply choose one of our 3 safe payment choices, and you'll receive your code instantly. There's no need to wait; simply receive your codes to begin extending your business in no time!
What is Xbox Gift Card?
A digital coupon that can only be used on the Xbox Live network is known as an Xbox gift card. The card comes with a code that must be entered in order to use it for the first time. When buying an Xbox card key, keep in mind that each card contains a specific amount of money, and the value can vary. "Do Xbox Live gift cards have an area restriction?" is a popular query – keep in mind that Xbox gift cards are only available in some areas, and these are the ones that are currently available:
Europe
United States
United Kingdom
Poland
Brazil
Denmark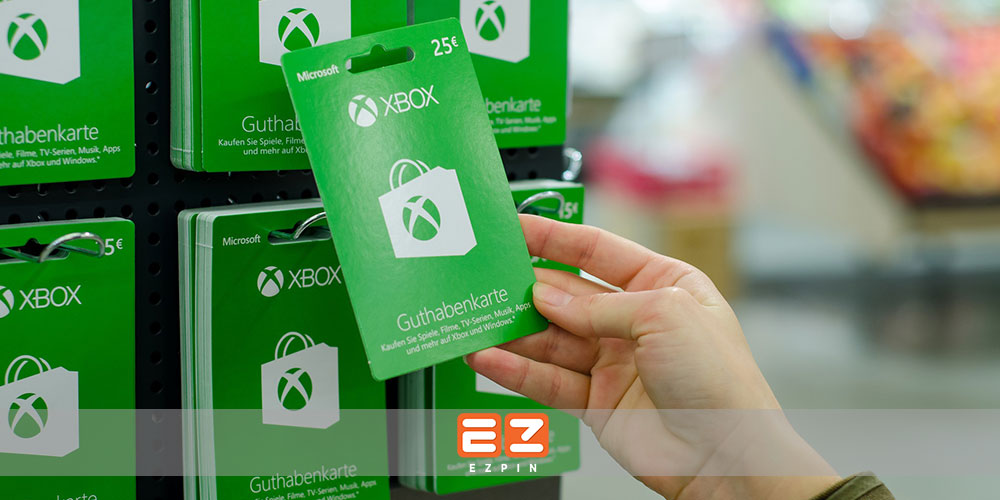 Only residents of the area in question will be able to access and purchase Xbox gift cards for that region; for example, only Poles will be able to access and purchase Xbox gift cards for the Poland region. Keep in mind that an Xbox card's currency is also determined by the zone. Another crucial thing to consider is whether all Xbox gift cards are the same or not. Yes, they are all technically identical; the only difference is the amount of redeemable money you get when you buy them.
Is it beneficial to sell Xbox Live Cards?
If you buy Xbox gift card from EZ PIN, you must first decide if you will sell them to your customers or give them as a gift to Xbox console buyers (if you sell any). In any case, these gift cards are incredibly useful because they can be used to purchase some of the best Xbox deals, as well as Xbox Live Gold deals. The following are some of the things your customers will get with an Xbox digital gift card:
Games in their entirety, including DLCs, game add-ons, and other game-related content; Xbox apps; Xbox Live Gold memberships, game points, and game passes; TV shows and/or movies;
Controllers, headsets, racing, and console adornments are examples of Xbox devices and accessories.
Gift cards can be used to pay for the majority of in-app purchases.
What can be done with Xbox Card?
Purchase all Xbox games online, which can be downloaded and played immediately.
Apps must be paid for.
Purchase the most recent films.
Get the most up-to-date TV programs.
Purchase devices as well.

Xbox gift cards will not work in physical Microsoft Stores, but it will work on Windows, Xbox, and the Microsoft Store online. These gift cards can be used for almost any entertainment purchase, making it one of the best options for any teen who owns an Xbox console.
Xbox Cards Aren't Like Any Other Gift Card
If someone is a gamer purchasing a gift card, Microsoft understands that he/she wants to take his/her entertainment to the next level. Games, apps, videos, and TV shows are all entertaining, but they will need accessories to get the most out of their Xbox.
What types of accessories would be able to get with Xbox Gift Card?
Controllers
Headsets
Racing accessories
Console accessories
It gets much better. Not only are these accessories cool, but Xbox also allows your customers to completely customize their gaming experience. Your customers will be able to design their own custom controllers using the Xbox Designs Lab. This is incredible for a gamer. Everyone has a distinct personality, as well as preferences and dislikes.

Now, if you're buying a gift card online from EZ PIN, you should be aware of the area in which the card is purchased. Assume the gift card is from the United Kingdom and has a value of £75. You won't be able to sell and activate the Xbox card in the United States, because you're in a different country. The area constraints are inconvenient, but many people have solved the problem by doing the following:
Change account's area to the country gift card belongs.
Purchase the desired item.
Return to your own country.
After switching regions, all you have to do is restart the console. It's a simple and fast way to get around these limitations.
How to redeem Xbox Gift Card?
Microsoft makes redeeming gift cards as simple as possible. If you're selling the card, you'll be able to activate it in a variety of ways:
Xbox One
Go to the Store from the Home screen
Choose Games from the Categories menu
Select the Use a Code option
If asked, sign in
Prepaid key will be in the form of either a QR code or a 25-character code
Keep the QR code up to your Kinect sensor if it's a QR code. Simply enter the 25-character code by hand in the case of the 25-character code
Follow the following instructions to unlock Xbox Gift Card using a web browser:
Pick the Redeem code function at microsoft.com;
Select "Sign in" from the menu;
Go to Microsoft account and sign in.
Select Redeem from the menu;
Select Confirm after entering the 25-character code.
Have fun!
Final words
EZ PIN has evolved and extended its products portfolio to meet the demands of all of its consumers and clients since launching its first office in 2020. EZ PIN has a wide range of gift cards and game cards. 24 hours a day, 7 days a week, get instant digital distribution, superb customer service, and supreme payment comfort!