Fortnite has undoubtedly taken the world by storm, with 350 million players worldwide. Epic Games launched the world-famous game in 2017 and it is still the most successful as compared to similar games. Today we are going to talk about Fortnite V-Bucks Gift Card, a perfect product for gamers all around the world.
With a Fortnite Gift Card, gamers can easily get V-Bucks for any Fortnite platform. It's the ideal option for anybody who wants to buy in-game content without having to attach their credit card to the game (that's you, responsible adults!).
The aim of the Battle Royale is to make it to the end by collecting the supplies needed to beat opponents. There is also a story mode called Save the World, as well as a Creative mode in which the players get to create their own rules. It doesn't end there, though. This game pushes the limits of mainstream gaming and is evolving into a social networking platform. Artists use this forum to offer onstage concerts, and players enjoy watching movies together. It's no surprise that Fortnite's popularity continues to grow.
What is V-Bucks?
V-Bucks is the in-game currency in Fortnite. Although the game is free to play, getting some extra cash will certainly improve the experience. They can be exchanged for new costumes, skins, emotes, and more in the Fortnite Item Shop, allowing players to customize their characters with new outfits, skins, and emotes. They can also be used to purchase Battle Passes, which grant access to a plethora of additional customization options, challenges, and experience boosts.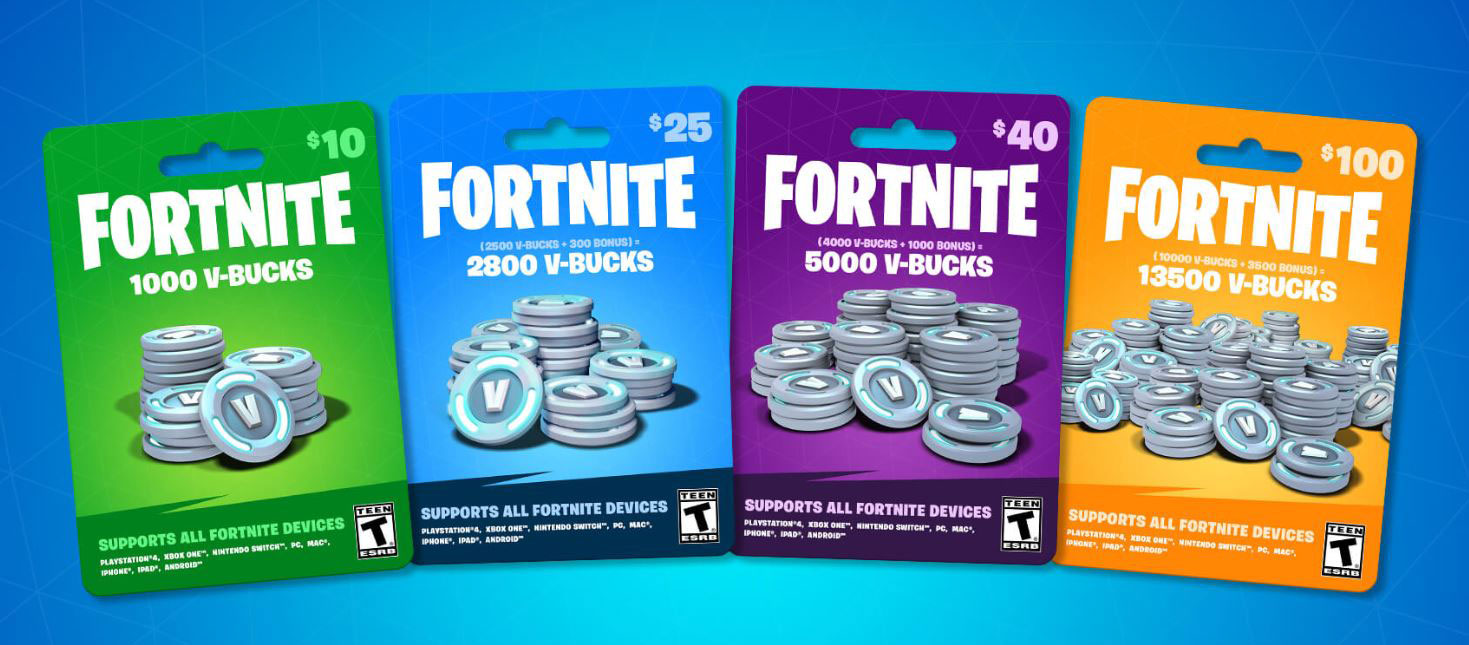 Character skins based on the most recent movies or holidays are often available in the Fortnite Item Shop. With Fortnite V-Bucks Gift Card, however, a Battle Pass or Battle Bundle is also a worthwhile investment to consider for customers and gamers. A Fortnite Battle Pass will grant access to all season-exclusive content depending on gamers' rank, while the Battle Bundle will grant access to the next 25 levels, as well as all of their rewards as a bonus! So, grab an Epic Games Fortnite V-Bucks gift card and make the most of the current or upcoming Fortnite season.
Simply purchase this Fortnite Gift Card from EZ PIN, get an email with the code, and redeem it on an Epic Games account. That concludes our discussion. Get enough prepaid credit to buy new outfits, pickaxes, and even Battle Passes in seconds. All the fun, with none of the stress of overspending, unforeseen or recurring costs!
Receive Fortnite V-Bucks Gift Card Code Instantly Via Email
Select the number of Fortnite V-Bucks Gift Card you want and complete your order using one of our three safe payment methods available (PayPal, BitPay, Card Transfer). Your gift card code will appear on your EZ PIN App a few minutes later. It is also emailed to you and can be used right away. The email contains redemption directions as well as a receipt. It's as easy as that! If you have any concerns about your code, simply contact our customer service team. They're delighted to assist!
Advantages of Fortnite V-Bucks Gift Card
Keeping track of in-game purchases can be difficult if parents live in a home with, say, young adults who are addicted to the game. What's the best way to keep them occupied while keeping wallet safe? With this Fortnite V-Bucks Gift Card, it's easy. It's particularly useful if they are not sure which tablet or console their children want to play the game on right now. Since this V-Bucks Card is compatible with PC/Mac, Xbox, Nintendo Switch, Android, iOS, and PlayStation, it's suitable for anyone who plays on various platforms. Any Fortnite player can use the code because it is simple to redeem on the Epic Games page.
How to Redeem Fortnite V-Bucks Gift Card
On the top right corner of the Fortnite home page, click Sign In;
Use Epic Games account to log in;
Hover over account name in the top right corner with mouse cursor;
Go to the V-Bucks Card page;
Click the Get Started button to begin;
To redeem Fortnite V-Bucks gift card, enter the key code and press Confirm.