Karma Koin Gift Card is the simplest way to improve gaming experience in favorite online games! Karma Koin is a virtual currency that allows gamers to access digital add-on content, progress further in the game, customize characters, and more!
With the right tool, you will get more out of your online purchases and sales. If you don't have a good sale rate or can't make types of online purchases, it's time to try a new method of buying and selling gift cards online with EZ PIN. The Karma Koin is a quick and powerful way to keep going forward with your sale. Understanding how to speed up your transactions while still getting what you want is the first step toward a perfect relationship with the tools you choose to use.
What is Karma Koin?
Karma Koin Gift Card, formerly known as a Nexon Game Card, is a safe and convenient way to purchase in-game content from more than 20 different game publishers. Customize characters and purchase in-game extras and currencies with prepaid virtual credit.
Your customers don't even need a credit card or an account to use it. As a result, this card is suitable for younger players who do not have a bank account, as well as for parents who want to keep track of their spending. They can simply use PIN to make game transactions as if it were a credit card. Do you want a larger payment? It's no problem! To make those larger transactions, simply combine multiple card numbers.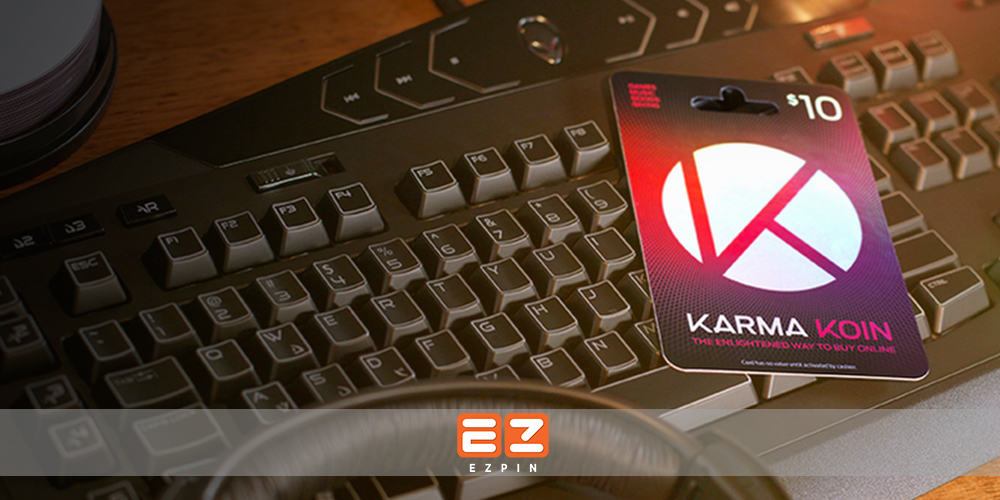 The number of games that embrace Karma Koin as a form of payment is steadily increasing. Use your prepaid credit to purchase Nexon Cash in MapleStory, Gold or Doubloons in World of Tanks or World of Warships, Fiesta Gold, and more!
Karma Koin Features
Features:
With KARMA KOIN, your customers can get more digital content in their favorite online games!
Compatible with the majority of online publishers and games – Over 15 game publishers have backed KARMA KOIN.
Flexible Options – Combine multiple card balances, spend only the balance customers want, and no credit card is needed.
Perfect for Every Occasion – Use as a gift, allowance, or alternative to a credit card for online games.
Your customers will be able to convert their Karma Koin gift card into online transactions with just an email. They will be given a set of activation numbers, similar to a credit card, which they will use to make online purchases. For starters, if they want to buy games, they can use this option as a game card. They will have immediate access to the most popular online games while also discovering new downloads and applications that they may be interested in. The choice is close to buying gift cards online, allowing them to take advantage of even more of the internet's offerings.
How EZ PIN Works
Your customers can get instant game content on their game console with a Karma Koin gift card instead of using a credit card. To buy a gift card, you must first make a deposit, which must then be accepted before the card is sent to you.
You agree to all of our terms and conditions when you create an account on our website.
You may need to check your order after making a purchase on our website.
On digital orders, we do not give refunds or exchanges. Please be cautious when choosing a card to purchase.  We can no longer guarantee the authenticity of a gift card once it leaves our safe inventory; thus, once an order has been received, it cannot be returned or exchanged.
There is no expiration date: Your gift card is not going to expire.
Why Buy Karma Koin Gift Card from EZ PIN
Our gift cards in EZ PIN are instantly available. We send you genuine gift codes directly to your inbox via email. Receiving a gift card by email is the most convenient way to do so without leaving your home. Within 5-15 minutes of receiving your order, we will give you your codes.
How to Redeem Karma Koin Gift Card?
Visit karmakoin.com for information on where to redeem this virtual card.
Follow the checkout process on the website of any participating game.
Choose Karma Koin in the checkout and enter your code.
Final Words
If you're still having trouble redeeming your Karma Koin Gift Card, first check your balance. If you need more assistance after confirming that the card has a good balance, send us an email at [email protected].
Our customer service team is available to assist all of our customers around the world 24 hours a day, 7 days a week. Rest assured that any problem you encounter will be handled by a knowledgeable service agent who will do everything possible to resolve the issue and provide all relevant information to ensure a positive customer experience.