A Robux Gift Card will be adored by all Roblox fans! Gamers can conveniently exchange it for Robux or a premium subscription. In any case, it will assist any player in making the most of the game. This digital Roblox Game Card will enable young people without access to a bank account or credit card to securely buy their own Robux. The eGift card codes are sent to your inbox (as a reseller) immediately and can be redeemed in seconds. As a result, gamers won't have to wait and you will extend your sale right away!
What is Roblox?
Roblox is a hugely successful game among children and teenagers. It has a construction feature similar to Minecraft, but it also has thousands of different games all in one. It also has a number of social facets to it. Players can make friends, create together, and chat in forums. The ability to create their own avatar is amusing, but the thousands of games that can be created and played inside the Roblox platform are even more so. This means that instead of only being spectators, the players become creators of the game. Parents would be pleased to know that all of the game's mobile applications and game modes have a variety of parental control and parental guidance choices, making it a fun environment for young players.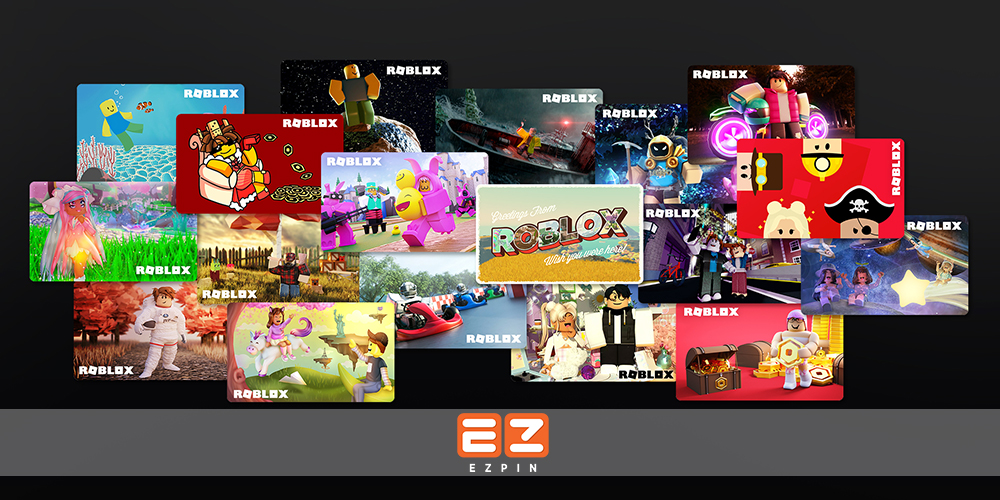 How to play Roblox?
Roblox is a social forum geared toward creativity and role-playing that is best enjoyed with others. Users can select from a wide variety of games to play after building an account and customizing an avatar, and they can start inviting friends to join them in the game. Join and build communities, invite others to play, and send chat messages by visiting forums. During a game, all other players can be found on the right-hand side of the screen, and users can communicate with them through chat or voice-chat.
Are you looking for a bestseller product? Look no further, because a digital Roblox Gift Card would make every young gamer happy. Do you want to have a personal panel to manage your sale and customers? Why not register on EZ PIN and get in touch with us? Simply fill out the form clicking here and you'll have a customizable management platform in no time. There you have it, a fantastic sale and management panel in a flash!
How to Buy Robux with a Roblox Gift Card
Although the core game is free to play, there are some games and features in the game that require Robux to buy.
Get Robux Gift Card Code Delivered Instantly by Email
It's easy to buy a Roblox Card online, and there are three different payment methods to choose from. Simply choose the desired amount of game credit! Once you've made your payment, you'll get an email with gift card number. Notice that this card can only be redeemed online.
If you have any problems or concerns, our customer service team will be pleased to assist you. Please contact us with them via Email, ticket, voice call, or Facebook Messenger!
Parents how to; Redeem Robux Code Online
Roblox Gift Cards can only be redeemed online. The new funds are immediately available after they have been redeemed, including on the mobile version of the game. This is vital information for parents to understand because it means that they must connect their child's account to an email address. They can redeem the card code online using the email address and account name. To do so, go to the top menu and choose 'Robux.' There, you can either redeem the code for Robux on the card or sign up for a Premium Subscription. Since the card can only be redeemed once, your customers must use the whole amount on it at once.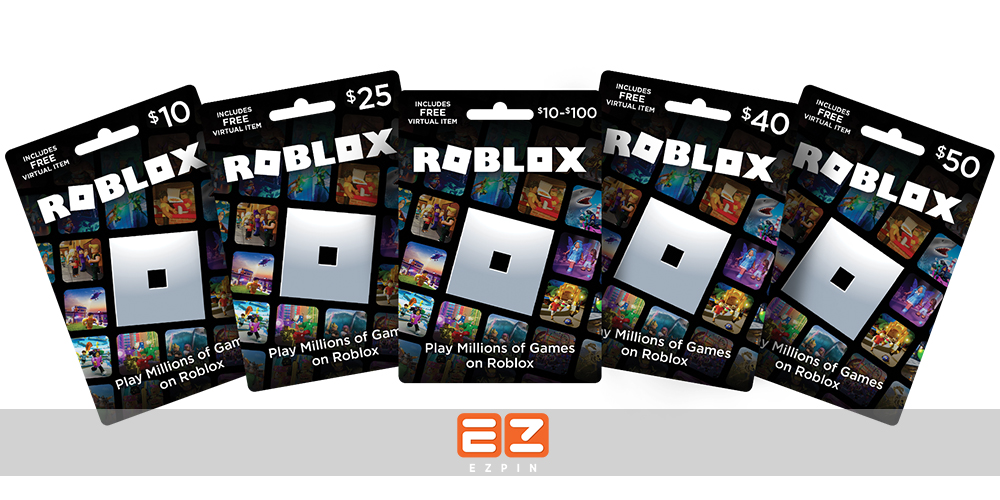 If all else fails, because gamers do not yet have an email address associated with their account, we suggest topping up their cell phone funds. If Roblox is being played on an Android device, a Google Play Gift Card can be used to top up the Play Store credit. If your customers are using an iOS device, they'll need to replenish their App Store credit.
What is Roblox Premium?
Roblox Premium is a monthly subscription that provides gamers with a set amount of Robux per month at a lower price than they would otherwise pay. Your customers can also exchange and sell things they've made in the game. In September 2019, what was formerly known as the "Builders Club" was renamed the "Premium Membership."
How to Redeem a Roblox Gift Card in 2 Different Ways
Although playing Roblox is free, in-game upgrades and avatar accessories (as well as a premium membership) will cost money.
Your customers may use a browser to redeem a Roblox gift card, but not the application.
Your customers may either add the balance of their gift card to their account or use it during the checkout process to redeem it.
If your customers code contains a one or a zero, they can encounter problems; in that case, replace them with the letters "I" or "O," respectively.
A Roblox gift card can be redeemed in one of two ways: by applying the balance to your customer's account or by using it at checkout. Since these processes aren't available on the app, they'll need to use a web browser in either case.
Redeem a Roblox Gift Card by Crediting Account
In a web browser, go to the Roblox Gift Card redemption website.
Sign in to account.
Click "Redeem" after entering gift card PIN.
Hit "Redeem" after entering the code.
You should see a message stating that the credit has been applied to account successfully. However, if you or your customers have problems and gift card code appears to have a one or zero, you will need to re-enter code and replace those numbers with either a capital letter "I" or "O."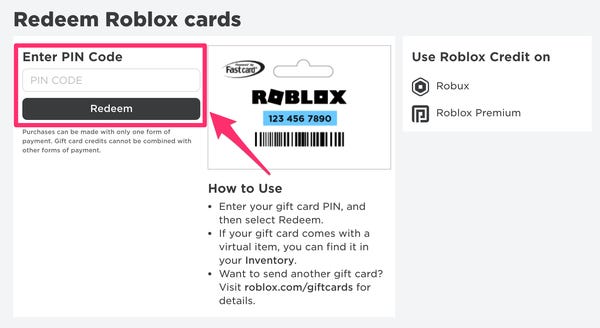 How to Redeem a Roblox Gift Card During Checkout
When prompted to choose a payment method, pick "Redeem Roblox Card."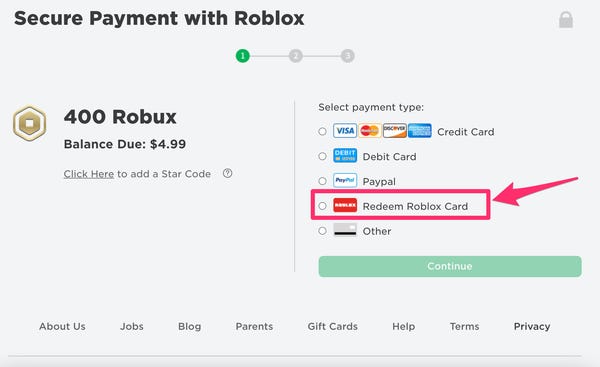 To redeem Roblox card, click the circle next to "Redeem Roblox Card."
Click "Continue."
Enter your gift card PIN and click "Redeem."
Select "Submit order" once the balance has updated.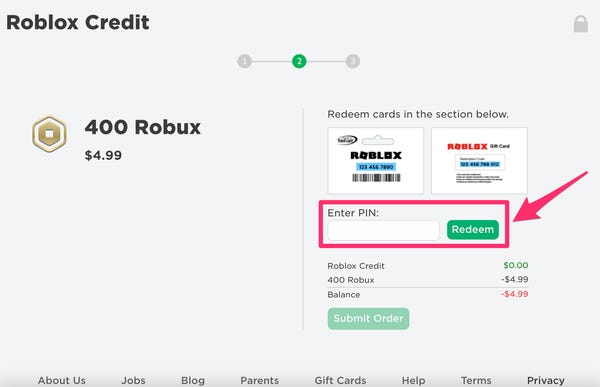 After pressing submit, customers will be taken to a confirmation tab. Be aware that the updates or improvements purchased can take a few minutes to appear in your customers' account.