Looking for something different and exciting on your next vacation? Skip the typical tourist spots, and explore new locales! Airbnb gift cards open up a world of possibilities for travelers looking for unique places to stay and things to do. With an Airbnb gift card, you can search from more than 7 million listings in over 100,000 cities worldwide. The options are endless, from beachfront homes and family-friendly apartments to treehouses and cabins in the woods! Let's examine why you should consider using an Airbnb gift card for your next vacation. 
What is Airbnb, and how does it work?
Airbnb is an online platform that makes it easy for people to rent out their homes or other properties, short-term or long-term. It's become a staple of the travel industry and a trendy alternative to traditional forms of accommodation like hotels. Airbnb connects property owners with guests looking for alternative places to stay. Property owners can list their spaces – bedrooms, apartments, cabins, and more – with an accompanying description, photos, and prices. Guests can search for and book the right property according to destination, budget, and preferences. Not only does Airbnb provide more variety and options compared to its traditional counterparts, but it also helps to promote economic activity in different regions as locals benefit from travelers using their services.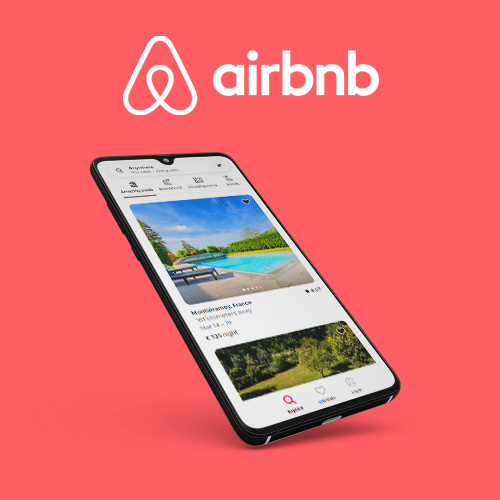 Why staying in an Airbnb is a unique experience?
Staying in an Airbnb can be truly a unique experience. Not only you are guaranteed to remain somewhere unlike a standard hotel, but the chance to stay in a home uniquely crafted and lovingly cared for by a host is special. Moreover, many Airbnb hosts go out of their way to ensure that your experience as their guest is filled with comfort and relaxation, which might include amenities like plush towels and sheets or even complimentary snacks or drinks. Most importantly, renting from an Airbnb enables guests to immerse themselves in their travel destination, allowing them to get an authentic taste of local life that would otherwise be impossible by staying in an impersonal hotel room.
How to use Airbnb gift cards
Airbnb gift cards are a great way to give the gift of travel to your friends or family. You can easily purchase gift cards on the Airbnb website with just a few clicks or send an e-gift card. Airbnb gift cards can be used to book trips worldwide – from quaint beachside cottages to luxury city apartments and unique treehouses. Whether for a special birthday surprise or just out of the blue, those lucky enough to receive one will have plenty of travel options. Plus, you don't have to worry about forgetting something important during your vacation if you're using an Airbnb gift card for accommodation. Every listing on Airbnb comes with all the amenities one could ever need. So why not treat yourself or someone else to an unforgettable getaway this summer? With Airbnb's fantastic selection and ease of use, there's never been a better time!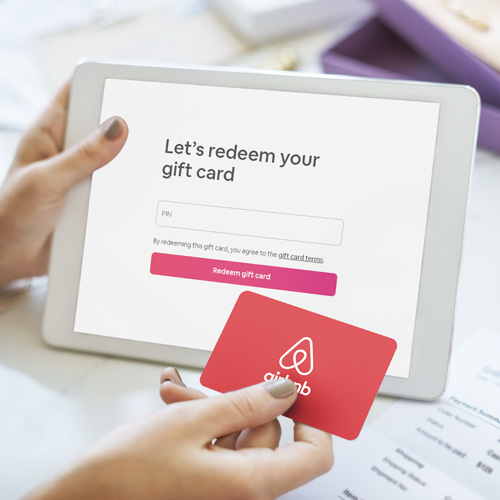 Look no further than our guide here to learn how to get the most out of Airbnb gift cards
The Benefits of Using an Airbnb Gift Card
When you use an Airbnb gift card, you unlock access to a wide range of options when it comes to lodging. You can choose from boutique hotels, private rooms in homes, or entire homes just for yourself. Plus, many options are available to accommodate everyone's needs, whether you're traveling alone or with family and friends.
Airbnb is also great for those who want to explore new places without spending too much on accommodation. With an Airbnb gift card, you can save money by choosing budget-friendly homes or rooms without sacrificing quality or comfort. And since the booking process is so easy, finding the perfect place that fits your budget and style is simple.
For those moments when your customers need to rapidly send a present or gift voucher, EZ PIN provides convenient Airbnb eGift cards. You can purchase gift cards at EZ PIN in physical or digital format that can be used on the website or mobile app.
With the click of a button, these digital cards can be sent right away to any recipient regardless of location – no hassles! Not only that, but they are also perfect for an upcoming Airbnb stay; just provide the supplied email address and wait until it arrives in minutes. Now you can see how Airbnb is empowering communities with ease around the world!
EZ PIN Makes Business Easier
Why you should choose EZ PIN:
Quick and Easy. Your Gift Card will be available minutes after you make your order online.
Lots of Choices. Choose from a variety of gift cards and order your desired one.
Products for Special Events. This is the ideal last-minute product for ceremonies, graduations, holidays, housewarmings, and more, with email, text, and print-at-home delivery options.
Simple to Redeem. There is no need to carry or misplace a physical gift certificate. The recipient can redeem the monies at any time by going online. There are no monthly costs, and gift cards never expire.
We are concerned about the security of your personal information. We follow widely established standards to protect the personal information provided during transmission and once received, including encrypting sensitive information, such as payment card information, during transmission. You can contact us at [email protected] if you have any queries concerning the protection of your personal information.