If you have just joined the EZ PIN resellers or you are one of our former customers, you may like to know more about EZ PIN features. The goal of this series of articles, is to tell you all the ins and outs of EZ PIN and its different platforms so that you can get acquainted with its features.
Large retail chains and multinational merchants may prefer to handle their own Digital Gift Card distribution and sales. How do you manage to accomplish it so effortlessly, rapidly, and effectively? The EZ PIN Web-based Panel is available to assist you.
Web-based Panel Features
From the Control Panel, you may manage your gift cards and account.
E-gift cards can be purchased.
Physical gift cards must be activated before they may be used.
Assign your accessory to a merchant.
Credit should be assigned to accounts.
Our web-based panel is a portal where you can easily manage all the work related to ordering, buying, and selling gift cards in one place. This panel has different sections, and after you register on our site and become one of our partners, you can access all of these sections.
There are different parts in this panel:
Dashboard
Shop
Cryptocurrency
Physical Gift Card
Accessories
Customer
Reports
Finance
Support
Settings
EZ PIN Web-based Panel is our easiest, safest and quickest solution for managing everything related to buying gift cards online.
In this panel, you can see the products available on EZ PIN.
Check your account balance, deposit, debit, and online transactions.
See the purchase and sale prices of different gift cards and set new prices for your customers.
Set the price of different gift cards in your own country and with a special currency.
Easily monitor the invoices, sales, and profits of your business.
Cryptocurrencies are everywhere these days. You can use digital currencies to buy gift cards and not use your cash and credit card.
Activate physical gift cards purchased from EZ PIN individually or in bulk, and also view the current status of the gift card and see if the card is active or not!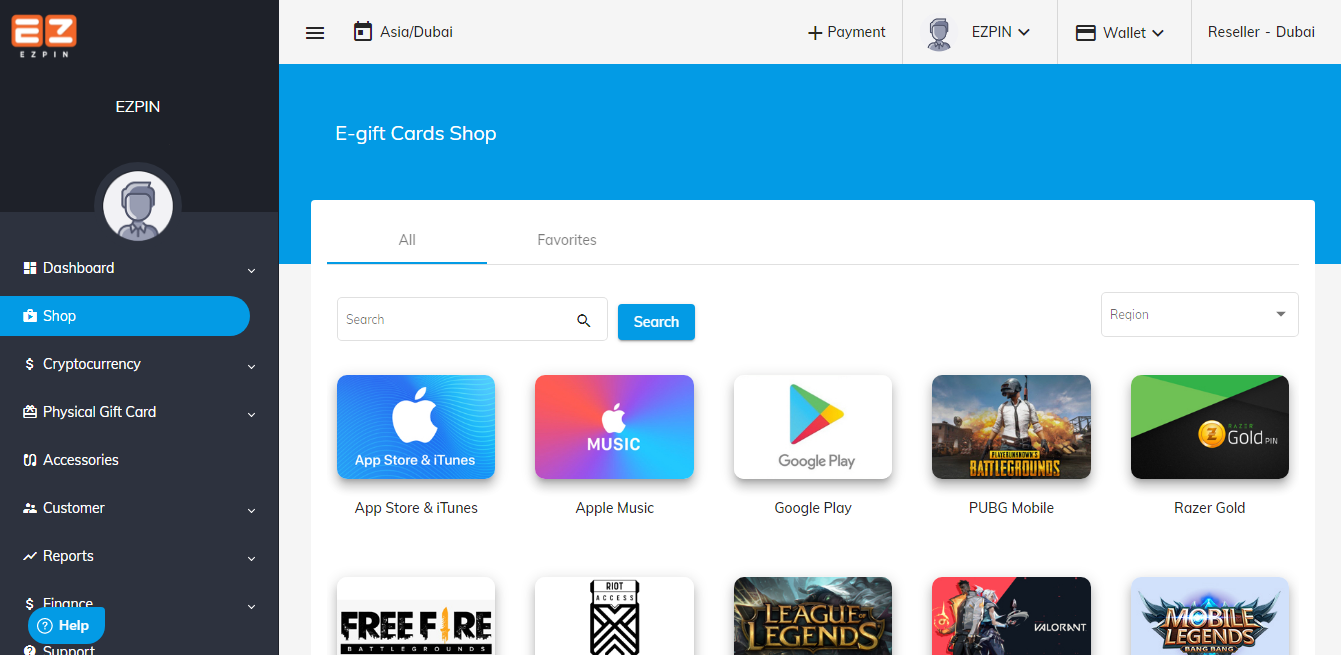 What Else is Available on EZ PIN Web-based Panel?
EZ PIN is a digital gift card E-commerce platform that accepts orders from all over America, Asia, and Europe.
You can pay with a credit card, bank transfer, or digital currencies.
Get a paper or an electronic invoice every 24 hours.
Employees and customers will benefit from the best incentives available.
Multi-country: more than 350 gift cards, vouchers, and top-ups are available for different countries, including UAE countries, USA countries, Asia countries, and all over the world.
Using EZ PIN web-based panel, a store can register its affiliate stores, in which case, by selling gift cards by affiliate stores, the upstream companies will benefit.
In fact, when selling a gift card to its customers, the subsidiary store buys the cards from its upstream entity, which it needs to buy back from the upstream entity, and thus continues to reach the main card provider.
Thus, with each purchase of a gift card by a store, each of the upstream entities of that store benefits as much as the difference between the amount of the buying price of the gift card from their upstream and the amount of the selling price of the card to the subsidiary store.
EZ PIN Support; Always Ready to Help
If you have a problem in any part of the panel and want to get help, the Support section allows you to contact experienced EZ PIN experts and share your technical and general problems with them.
Security; For Your Peace of Mind
Security plays an important role in EZ PIN processes, and each EZ PIN activity that comes in contact with sensitive customer information is secured with up-to-date security mechanisms.
One of the cases is that the user has the ability to activate two-factor authentication, which requires him to download and install the Android or iOS version of the google authenticator and scan his own QR code to perform the activities he needs each time.
The user can also activate two-factor authentication by e-mail. If activated, in order to log in to EZ PIN, in addition to entering user information, he must also enter the unique code sent to his e-mail.
The user's mobile and WhatsApp numbers can also be used to send information about purchased cards, or the user's email can be used to create an account and send card information, etc., all of which can be verified using a one-time code.
EZ PIN Web-based Panel is a customizable dashboard that our Technical and Analysis team has made up for you.
This panel provides interactive views and business intelligence services through a simple and flexible interface that allows for the comprehensive report and dashboard customization.
Keep an eye on your sales reports
Assess your sales performance
Evaluate your progress
If you have any questions or concerns, please do not hesitate to contact our support team.