The majority of consumers use gift cards to reward a loved one or to express gratitude to a coworker. However, did you know anything about gift card scam? Today on EZ PIN we answer the question "What is a Gift Card Scam?" and we introduce tips on how to spot gift card scams and gift card fraud.
Gift cards will not be accepted as payment by any government agency or respected business.
What Is a Gift Card Scam?
Gift card scams aren't common, but when they do, they're easy to recognize and avoid! Gift card theft is very minor compared to credit card fraud and other forms of identity theft, and the damage done is usually confined to the value of the gift card. When you're the one with a non-working gift card, it doesn't matter if fraud is common or not. So, let's take a look at the many gift card fraud schemes that might occur, as well as the warning indications that something isn't quite right. Scammers can be deceptive and persuasive, but by following the steps below, you should be able to avoid gift card scams.
Gift cards are popular among consumers because they are a handy way to give gifts, but they are also appealing to scammers. These gift cards, unlike wire transfers, are simple to get and can deliver immediate payments without triggering any warnings.
Gift cards do not have the same restrictions as credit or debit cards because they are not linked to an account or person. This not only affords the scammers anonymity, but it also makes tracing the funds after they've been spent difficult. Gift cards, on the other hand, are simple to convert. Scammers can use them to buy expensive items to resell or simply trade the value of the card for cash or cryptocurrencies.
Scammers requesting payment by gift card have increased significantly since 2015.
What Does Scammer Do with Gift Cards?
Scammers use gift cards in a variety of ways, from pretending you owe them money to stealing gift card numbers. So, how do gift card scams work?
Phone Calls
A phone call is used in many of the most prevalent gift card frauds. This call could be from someone pretending to be from the IRS, collecting taxes and fines, or from tech support, requesting payments to repair your computer. All of these instances use three emotions to create a sense of urgency and panic: fear, hope, and sympathy.
The caller will then invite you to make the payment using a gift card. Typically, this is for a well-known brand like Target, Apple, or Google Play, but they may also urge you to buy multiple cards from huge department stores. The caller may insist on staying on the phone while you walk to the store or make an online transaction — this is a big red sign that you're being scammed.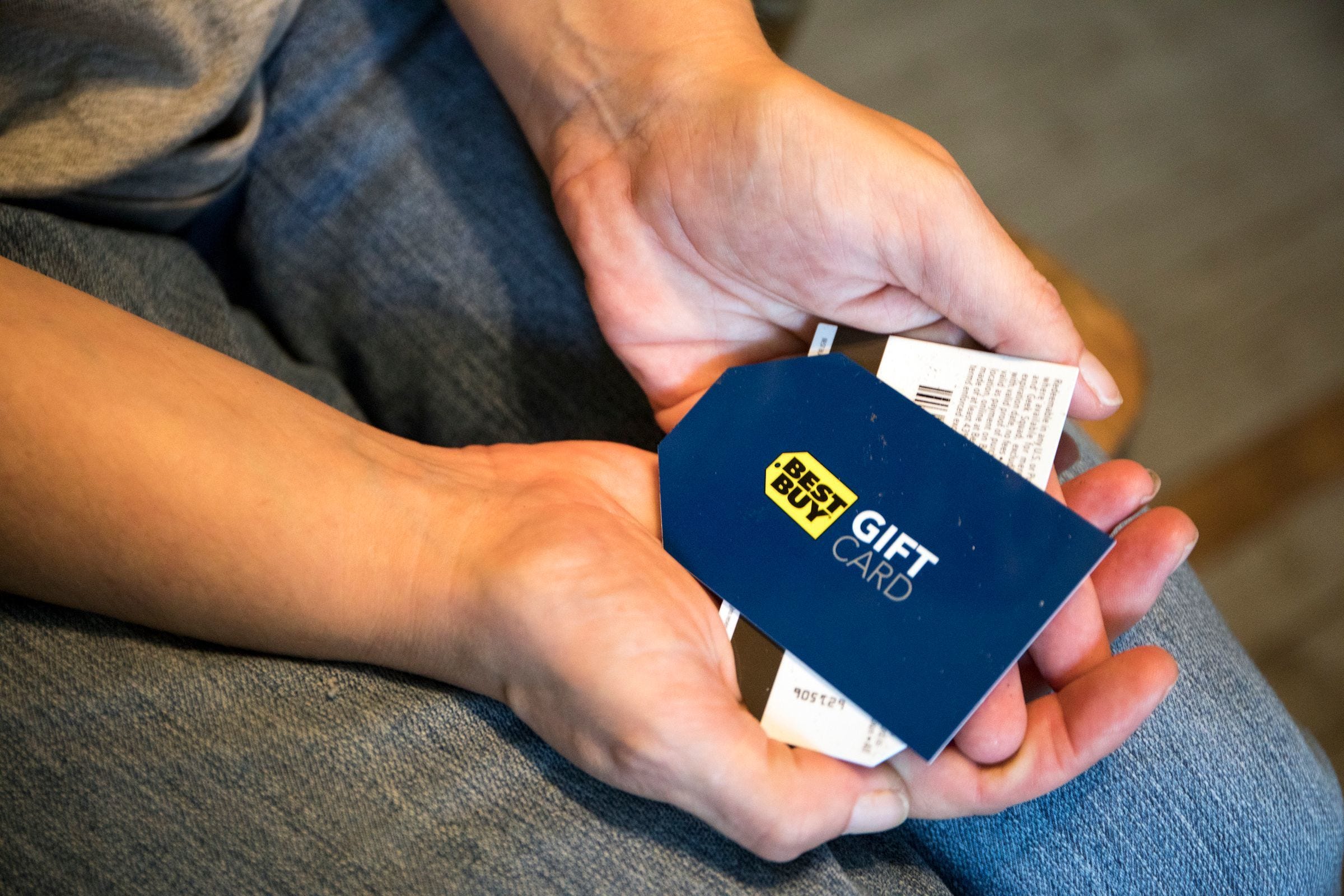 The caller will ask for the gift card numbers and codes after the cards have been purchased. The scam artist has immediate access to the funds with these data, and your money is gone.
Stealing the Codes
Scammers can also utilize gift cards by entering stores, jotting down the codes, and then waiting for the card to be activated. They can use the stolen gift card to buy things online after it's enabled. Always inspect the gift card packaging to determine if it has been tampered with to prevent falling victim to this fraud. If you believe it has, inform a member of the store's staff and select a different one.
Scammers' routines change all the time, so keep in mind that if someone asks for payment by gift card, it's a scam — gift cards are intended for gifts.
Tips for Consumers; Avoid Gift Card Scam
Here are some tips for keeping gift cards safe, whether you're giving or receiving them.
Buy Gift Cards Online
You can get gift cards from merchants, chain restaurants, and other issuers like EZ PIN directly. Those cards are not easily accessible to criminals. If you're buying a high-value gift card, this is very critical.
Don't Buy In-store Cards with Easily Accessible Numbers and PINs
If you've delayed until the last minute and need to buy a gift card in a store, Henderson recommends looking for ones kept behind the counter or in well-sealed packaging.
If the cards are on a rack, he suggests checking through a large selection and inspecting the barcode numbers to determine if there are any duplicates or if the packaging has been tampered with. Get your cards somewhere else if they aren't visible to surveillance cameras or store staff.
Change Security Code As Soon As Possible
When you return home, register the card, update the PIN, and use the money right away. The longer a card is left unattended, the more likely it is that the balance will be stolen by a cybercriminal.
Try To Get Stolen Funds Back
Some card issuers employ cybersecurity protection systems, which may be able to discern between legitimate and fraudulent gift card transactions. So, if your card has been depleted, contact the issuer and request a refund.
Secure Your Home Computer
Hacking your computer can also give criminals access to your gift card details and PINs. Make sure your security software is up to date, generate and use strong passwords or a password generator, and enable multifactor authentication on every site where it's possible to help prevent this.
Final Thoughts; Small Amount, but Still Too Much
Gift card fraud is not welcome, but because gift cards cannot be overspent, a thief can only take the card's value. Nonetheless, the incident could taint an otherwise enjoyable party or holiday. So, follow the safeguards listed above and keep an eye on the activation process; double-check the balance on your gift cards as soon as you receive them; and don't believe anyone who tells you that gift cards will be required to pay for products or services.
You can order and buy super safe and secure gift cards from EZ PIN.