Nintendo, the Japanese video game giant, has just confirmed that it is expanding its movie and television universe. After the success of The Super Mario Bros. Movie, which was released in collaboration with Illumination Studios, Nintendo is ready to take on even more projects.
"We are very pleased with the results of our first Hollywood venture," said Nintendo president Shuntaro Furukawa. "The overwhelming response from fans and critics alike has been a huge encouragement for us to continue exploring new opportunities." The Super Mario Bros. Movie shattered box office records and was a hit with fans, despite mixed reviews from critics. The movie's success has proven that Nintendo can bring its beloved games to life on the big screen while staying true to its original vision.
"The success of our first movie shows that we can tell stories from our world in exciting ways without sacrificing our core values," said Yoshiaki Koizumi, general manager at Nintendo Entertainment Planning & Development Division. "Our goal is to continue creating content that resonates with long-time fans and newcomers alike."
Nintendo's plans for further expansion into movies and TV shows will also involve more collaborations with other studios. This means more chances for filmmakers to create new stories based on classic characters like Mario, Link, and Samus Aran from Metroid Prime.
"We want to work together with all kinds of partners who share our enthusiasm for creating great entertainment experiences," said Furukawa. "We feel that this is an important step towards making sure everyone can enjoy these characters no matter what kind of medium they choose."
It looks like plenty of exciting things are coming up from Nintendo shortly! Fans can look forward to even more adventures featuring their favorite characters coming soon to theatres near them!
About Nintendo
Nintendo is a Japanese video game company that was founded in 1889. It has become one of the most recognizable brands in gaming, thanks to its iconic characters like Mario, Link, and Donkey Kong. The company's games have sold over 500 million units worldwide, and it continues to innovate with new hardware and software releases every year. Nintendo also produces movies, TV shows, and consumer products related to its gaming franchise. The company has become a household name and is beloved by gamers of all ages around the world.
Nintendo gift cards can make a great gift for any occasion. EZ PIN lets you buy Nintendo gift cards quickly and easily online. Our selection of Nintendo eGift Cards and physical Gift Cards come in various denominations to fit any budget. And with our secure payment options, your personal information is safe from theft or fraud.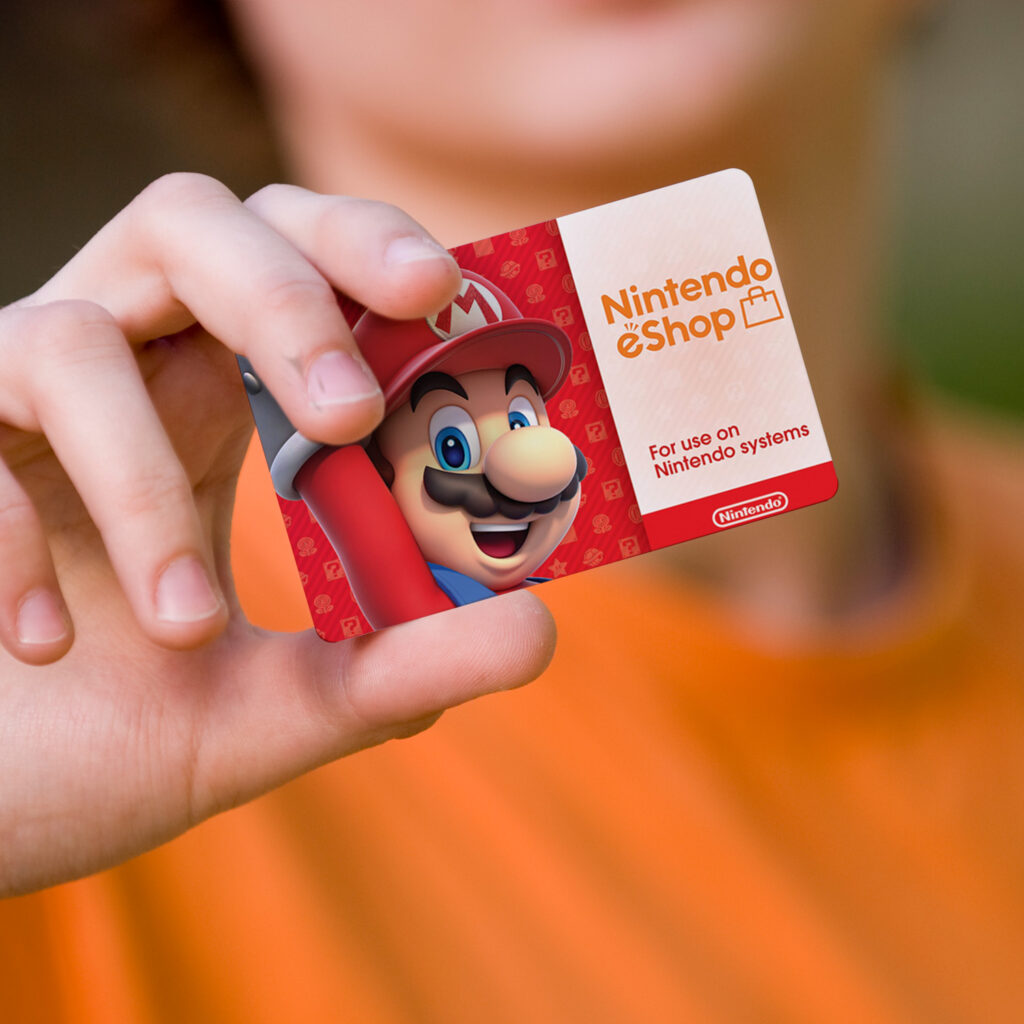 EZ PIN Makes Business Easier
Why you should choose EZ PIN:
Quick and Easy. Your Gift Card will be available minutes after you make your order online.
Lots of Choices. Choose from a variety of gift cards and order your desired one.
Products for Special Events. This is the ideal last-minute product for ceremonies, graduations, holidays, housewarmings, and more, with email, text, and print-at-home delivery options.
Easy to Redeem. There is no need to carry or misplace a physical gift certificate. The recipient can redeem the monies at any time by going online. There are no monthly costs, and gift cards never expire.
We are concerned about the security of your personal information. To ensure security, we encrypt sensitive data like payment card information before and after transmission. You can contact us at [email protected], if you have any queries concerning the protection of your personal information.