Noon, the leading online marketplace platform in the Middle East and North Africa, has announced that its acquisition of fashion e-commerce venture Namshi has been approved by Saudi Arabia's General Authority of Competition. The approval marks a major milestone for both companies and is a big step forward in Noon's mission to become the region's go-to digital shopping destination.
"We are thrilled to have received approval from the General Authority of Competition on our acquisition of Namshi," said Mohamed Alabbar, Chairman of Noon. "This is an exciting development for both companies as it will enable us to better meet the needs of our customers and provide them with more services and products than ever before. We look forward to continuing our journey with Namshi as part of the Noon family."
Namshi was founded in 2011 and quickly established itself as one of the leading fashion e-commerce sites in the Middle East and North Africa region. Its combination of competitive prices, wide selection, and fast delivery made it a popular choice among shoppers looking for apparel, shoes, accessories, beauty products, and more. With this acquisition, Noon will be able to expand its product offering even further by integrating Namshi into its platform.
"Namshi has always been dedicated to providing customers with access to top fashion brands at great prices with exceptional service," said Faraz Khalid, Founder & CEO at Namshi. "Joining forces with Noon allows us to amplify our reach across the region while continuing to offer our customers an unrivaled experience when shopping online."
The acquisition is set to close in early 2021 pending the completion of customary closing conditions. Once finalized, customers can expect enhanced features such as faster delivery times, improved customer service capabilities, and access to exclusive discounts on their favorite brands across both platforms.
"This is an exciting time for both companies," said Alabbar. "We are confident that this acquisition will result in greater value for customers across the region thanks to a wider selection of products backed by first-class customer service."
About Noon
Noon is committed to providing customers with access to a wide variety of products from leading local and international brands. Its catalog features everything from fashion items such as apparel, shoes, and accessories, to electronics and home appliances. Customers can even shop for groceries online through Noon's dedicated Groceries store. With its unbeatable prices, fast delivery times, and secure payment options, Noon has quickly become one of the leading digital shopping destinations in the region.
Noon also offers customers the convenience of Gift Cards, which can be used towards any product on its platform. A Noon Gift Card is the perfect gift for any occasion and can be purchased in denominations ranging from SAR 50 to SAR 500. With a range of exclusive deals and discounts, as well as easy redemption options, it's never been easier to give the gift of shopping. Plus, Noon Gift Cards are redeemable both online and in their retail outlets, giving customers even more options when it comes to finding the right present.
For those moments when your customers need to rapidly send a present or gift voucher, EZ PIN provides convenient Noon eGift cards. You can purchase gift cards at EZ PIN in physical or digital format that can be used on the website or mobile app.
With the click of a button, these digital cards can be sent right away to any recipients regardless of their locations – no hassles!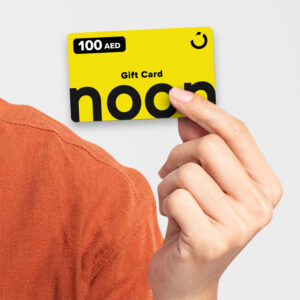 EZ PIN Makes Business Easier
Why you should choose EZ PIN:
Quick and Easy. Your Gift Card will be available minutes after you make your order online.
Lots of Choices. Choose from a variety of gift cards and order your desired one.
Products for Special Events. This is the ideal last-minute product for ceremonies, graduations, holidays, housewarmings, and more, with email, text, and print-at-home delivery options.
Easy to Redeem. There is no need to carry or misplace a physical gift certificate. The recipient can redeem the monies at any time by going online. There are no monthly costs, and gift cards never expire.
We are concerned about the security of your personal information. To ensure security, we encrypt sensitive data like payment card information before and after transmission. You can contact us at [email protected], if you have any queries concerning the protection of your personal information.