Showing your appreciation in a personal and meaningful way can be challenging. You want to spoil the deserving people in your life, but how? CVS Pharmacy Gift Cards are an ideal solution for expressing gratitude with ease! Whether simply saying thank you or acknowledging a job well done, these thoughtful gift cards allow any recipient to choose from tens of thousands of items available at CVS Pharmacy locations nationwide. From over-the-counter medications and everyday essentials to health & wellness must-haves – give them access to the products they need with one simple gesture. Read on for more details about why you should show your thanks this holiday season with CVS Pharmacy Gifts Cards!
What is CVS Pharmacy
CVS Pharmacy is a great place to get everything you need for your health, wellness, and beauty needs. It's a one-stop shop with something for everyone, with a wide variety of products and services, including prescription refills, flu shots, immunizations, and physicals. You can also pick up travel supplies, pharmaceuticals, and even household goods. With convenient locations nationwide and easy access through their mobile app, CVS Pharmacy makes it easy to stay on top of your health without making too many trips to the store. Plus, with exclusive promotions and rewards like ExtraBucks, there's no reason not to try them!
Showing Your Appreciation – Why CVS Pharmacy Gift Cards Make Great Gifts
Shopping for gifts can be tricky, especially when looking for something affordable and practical. The great thing about CVS Pharmacy Gift Cards is that they make the perfect gift for any occasion, regardless of age or interests. Not only are they welcome at all CVS locations throughout the country, but they also provide recipients with various options, including beauty products, health items and even food and beverages. Moreover, gift cards can be easily purchased online and offer plenty of flexibility when expressing appreciation. When someone receives a CVS Pharmacy Gift Card, it shows them how much you care about them and makes a gift-giving experience easy and enjoyable.
What You Can Buy with a CVS Gift Card
CVS Gift Cards are perfect for any shopping occasion — for treating yourself or someone special. With a card, you can buy almost anything from your local CVS, including health and beauty products, food and beverages, and household items. You never have to worry about finding the right size, color, or fit of clothing because you can use your gift card to buy things from the Health and Household department, like vitamins, contact lens solution, laundry detergent, or paper towels. In addition, with a Card, you can get great deals on all kinds of snacks from the Food & Beverage section, like chips, candy bars, popcorn, and even drinks — a bonus! If you want to pamper yourself at home or make someone's day extra special, use your CVS Gift Card!
Benefits of Giving a CVS Gift Card
Giving a CVS gift card is the perfect way to show someone you care! They'll be able to pick out whatever they need or want at CVS, which makes it a truly personal gift. Also, buying the gift card online or in-store means the giftee can enjoy bonus rewards when they use their card for purchases. Rather than worry about getting specific items, you can rest easy knowing you have made a convenient gift choice and left the shopping up to them.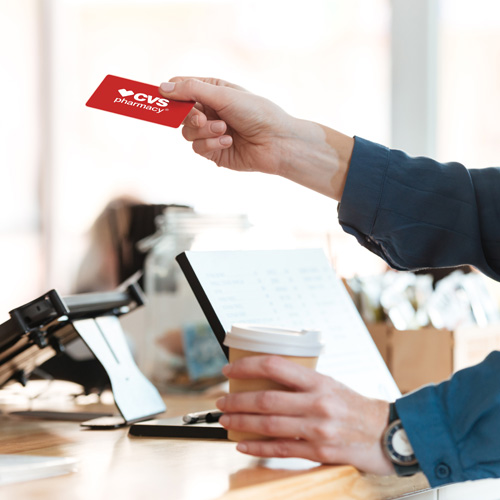 How to Purchase a CVS Gift Card and Send it to Someone Special
Sending a gift card to someone special is a great way to share the love! You can easily purchase a CVS Gift Card at your local CVS store and have it delivered right to your doorstep, or you can buy one online with the click of a button. With CVS Gift Cards, there are no fees or expiration dates to worry about – you can choose from traditional mail delivery or eGifting if you need the gift quickly. When you're done selecting your card and entering the recipients' information, all that's left is to customize your thoughtful gift's message with nothing but sweet words for them – how special! Delivering with love and care has never been easier; surprise someone special today with a CVS Gift Card.
With so many options and benefits, CVS Pharmacy gift cards are a great way to show appreciation for someone special. Whether it is your loved one or a friend, you know they will appreciate the convenience of picking up all their prescriptions, shopping for health products and beauty items, or even purchasing groceries from CVS with just the tap of their presented gift card. Remember that new digital features make buying and sending your recipients their gifts easy. So next time you're looking for that next great gift idea – remember CVS Pharmacy gift cards! With EZ PIN, buying CVS Pharmacy gift cards is a breeze. Select your desired denomination and choose from either physical or digital formats to get started – you can even use them through the website or mobile app afterward!
EZ PIN Makes Business Easier
EZ PIN makes business easier for both resellers and customers. With the explosive growth of mobile and online shopping, digital gift cards are essential and versatile purchasing tools that drive customer engagement and revenue growth.
Why EZ PIN?
Our cards are available for use right away. We digitally (and physically) deliver genuine gift card codes to your inbox or phone. EZ PIN Panel is the fastest way to receive a gift card without leaving your house. After receiving your order, we can send you your codes in under 10 minutes (for products available in stock).