Gifting gift cards can be a great way to show people how much you appreciate them. Whether it's for a birthday, Christmas, a special occasion or just because – gift cards provide the perfect opportunity to give something meaningful that anyone would love to receive! But with so many different types of gift cards out there, choosing the right one for your recipient can be overwhelming. Read on for some helpful tips that will make selecting the perfect gift card effortless and enjoyable.
Choosing the right gift card for any occasions
Giving gifts can be tough, especially when you don't know what the other person wants, but don't worry, a gift card can be the perfect solution! With so many options out there, it can be overwhelming trying to choose the right one. Should you go for a big department store, a restaurant, or maybe a spa? The key to choosing the right gift card is to think about the recipient's interests and hobbies. If they love dining out, a foodie gift card could be the way to go. If they're a bookworm, then maybe a bookstore gift card would be a better fit. Whatever you choose, be sure to read the terms and conditions to ensure the gift card can be used how and where they want. With a little bit of thought, the right gift card can make a perfect present for any occasions!
Benefits of giving gift cards as gifts
When it comes to gift-giving, there's nothing quite as versatile as a gift card. Not only do they allow the recipient to choose exactly what they want, but they also provide a level of convenience that traditional gifts just can't compete with. Whether you're struggling to find the perfect present for someone or simply want to make sure they get something they truly love, gift cards are the way to go. Plus, many retailers offer bonus incentives for buying gift cards, meaning you can save some cash while still giving an awesome gift. So next time you're stumped on what to get someone, consider a gift card – it's the gift that keeps on giving!
Different types of gift cards available and their features
Gift cards have quickly become a go-to gift for many occasions, from birthdays to holidays to just-because moments. But with so many different types of gift cards available, it can be overwhelming to choose the right one. Some gift cards, like those for specific stores or restaurants, offer a straightforward option for the recipient to treat themselves. Others, like prepaid debit cards, provide more flexibility and can be used anywhere that accepts debit cards. There are also gift cards for experiences, such as concert tickets or spa treatments, for those who prefer a more unique gift. With so many options, it's easy to find a gift card that fits both your budget and your loved one's interests.
Tips for selecting the best gift card for specific occasions
Gift cards are a convenient way to show someone you care without the hassle of trying to figure out what they want. But with so many options out there, how do you choose the best one for a specific occasion? First, think about the recipient's interests and needs. Are they a foodie? A music lover? Do they enjoy pampering themselves? Then, consider the retailer or business that the gift card is for. Is it a place they frequently shop or visit? Lastly, look for any additional perks or bonuses, such as free shipping or a bonus card with purchase. By following these tips, you'll be able to select the perfect gift card for any occasion.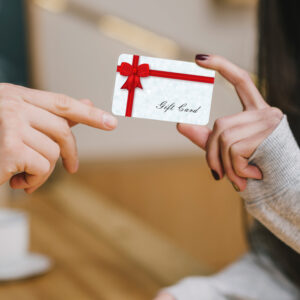 Gift card etiquette – when to give and what to say
Gift cards have become a popular choice as presents for any occasions. But with their increasing popularity comes pressure to abide by certain etiquette rules. So, when is it appropriate to give a gift card, and what should you say when you do? As a starting point, it's always a good idea to consider the recipient's interests and needs. A gift card for a restaurant they love or a store they frequently shop at is always a safe bet. When it comes to what to say, keep it simple and heartfelt. Express your gratitude for their presence in your life and your hope that the gift will bring them joy. Remember, the most important thing is the gesture itself, so don't stress too much about the semantics.
In conclusion, choosing the right gift card for any occasions doesn't have to be a stressful endeavor. With the right tips and knowledge, finding the perfect gift card can be a breeze. Additionally, consider using EZ PIN to make the purchase process even easier. With their fast delivery of genuine codes, they provide an effortless way to digitally and physically deliver a gift card to the recipient in under 10 minutes. With EZ PIN, you can be sure that your loved ones receive the perfect present for any occasions without breaking the bank or stressing yourself out. So, next time you need to purchase a gift card, look no further than EZ PIN!