Free Fire is one of the most popular Battle Royale games available for smartphones. Since the game is freemium, players can use gift cards to purchase aesthetic things such as clothing, guns, and even pets. All kinds of Free Fire Gift Card is available on EZ PIN. Order Now!
What is Free Fire?
One of the most famous mobile Battle Royale games is Garena Free Fire. On Google Play "Best Apps of the Year" list in 2019, it was named "Best Popular Voted Game." Although the gameplay appears easy, it is exciting and engaging. Characters start the game by jumping out of a plane and landing on an island with just a parachute. To gain an advantage in the combat, gamers should look for guns and other useful items. Make haste! 50 other players are fighting for the same prize: to survive the 10-minute round and be the last one standing.
What are diamonds used for in Free Fire?
Diamonds are Free Fire's in-game currency, similar to PUBG Mobile Unknown Cash or Apex Legends Coins. Your customers can use this in-game currency to purchase guns, pets, and (vehicle) skins. They will also have access to Misha, Nikita, Kelly, Kapella, and a slew of other characters. Your customers can also use their diamonds to play Luck Royale and Diamond Spin to get a variety of special skins and weapon upgrades.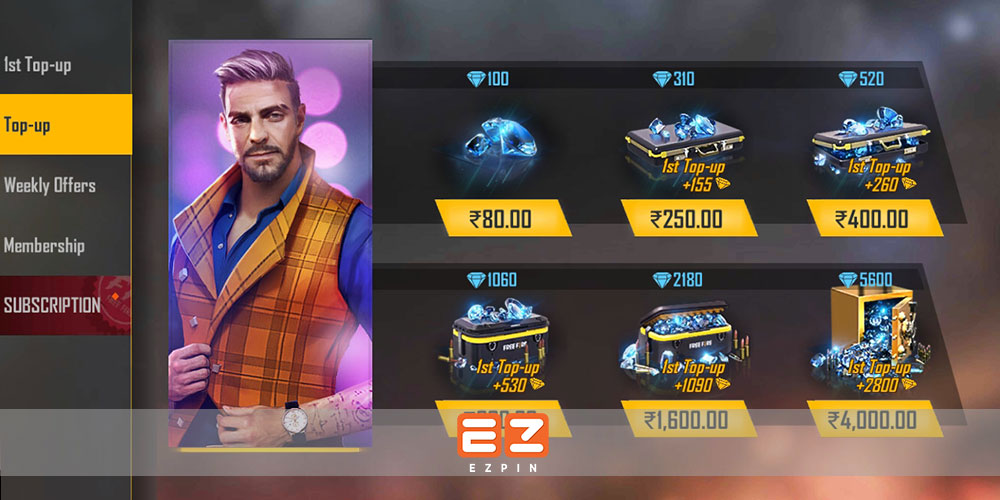 Buy Free Fire Gift Card Online from EZ PIN Fast and Easy
Get a Free Fire Gift Card to conveniently add more sale in your business. Your customers can join the Battle Royale on their smartphones if they have enough diamonds to buy skins or weapons. Since they don't have to pay for their in-game items via the App Store or Play Store, our immediately delivered gift card code makes it easy and safe for you to sell more and enhance your sale. Your customers should simply enter the gift code to get diamonds in their wallet whenever and wherever they want!
Receive Free Fire Diamonds Gift Cards Instantly by Email
Pick the number of Free Fire Gift Cards you want to buy and one of our three safe payment methods. Your gift code will be emailed to you shortly after payment approval in our sale department. You can directly redeem it for your customers or let them do it in their Garena account.
Simply contact our customer service if you have any concerns about your EZ PIN order. They will assist you via Email, voice calls, or Facebook Messenger.
How to Redeem Free Fire Gift Cards
These cards, which come in a variety of denominations, can be quickly converted into diamonds, the game's currency. They can also be redeemed in other games like 'Avakin Life' and 'Speed Drifters.' EZ PIN blog will show you how to use these prepaid cards sold on the EZ PIN website, retail stores, EZ PIN Point of Sale (POS) and In-store Stands.
Garena Free Fire has built a page on their website called "Free Fire Reward Page" for redeeming codes. Any free fire player can now use this amazing tool to gain access to even more cheesy things in their account. Let's take a look at the instructions for using this method.
To begin, go to the official Garena Free Fire Reward Page website by clicking here.
Use Facebook, Apple, Google, or other login apps to access account.
Then, go to the Dashboard (three dot icon) and select the Redeem Code function.
Enter Redeem Codes that are currently active (Redemption code has 12 character).
Finally, to activate gift card, press the confirm button.
Final Words
EZ PIN has a wide range of gift cards and game cards. 24 hours a day, 7 days a week, get instant digital distribution, superb customer service, and supreme payment comfort!