Is it possible for your company to sell and accept gift cards? If you don't, you might be missing out on a chance to boost revenue, establish your brand, and boost consumer loyalty. Gift cards are essentially a prepayment to your business, providing you with cash before the buyer even begins purchasing. A gift card can be physical or digital. Today on EZ PIN we tell you everything about how to run a gift card program.
Gift cards boost revenues in two ways: when a gift card receiver spends more than the card's face value, and when a card's balance remains unused.
Because most POS systems have a built-in gift card capability, putting such a program is simple.
When gift cards are used in conjunction with a POS system, you may link transactions to customer accounts and gain insight into their purchasing habits.
This post is written for small business owners who are thinking about running a gift card program.
Different Ways of Using Gift Cards
The gift card is purchased by a consumer, either in person or online. If the gift card is purchased in person, the cashier uses the POS system to pick the gift card program and activates the gift card with the stated value. The customer pays for the gift card and receives it together with a printed receipt that includes the gift card balance. The gift card is subsequently given to the recipient by the customer.
When making an online purchase, the customer enters the amount or chooses from a drop-down list of options. The customer fills in the receiver's name and email address, adds a note to the recipient, then completes the payment. The system sends an email to the receiver with the note, gift card amount, and a unique number or barcode for the card.
Redemptions Options
Customers can use a real card, a printout of a digital gift card, or even a QR code on their mobile device to redeem gift cards. Accepting payment is as simple as selecting the gift card option in the POS system interface for the cashier. If the gift card has a magnetic stripe, the cashier will swipe it, scan it if it contains a barcode, or manually input the gift card number.
If there is a balance on the gift card, the merchant account payment processor will approve the purchase and deduct the amount of the purchase from the balance. If the purchase exceeds the card's balance, the POS will notify the cashier that another payment method will be necessary to settle the difference.
Benefits of Selling Gift Cards
Selling gift cards has a number of advantages, including enhancing brand awareness and improving cash flow. Ways that gift cards might benefit your company are fully discussed in "Sell Gift Cards for Your Small Business" or you can use other articles in EZ PIN blog to know everything about starting a gift card business and different gift cards in the market.
How to Start a Gift Card Program
Physical vs. Digital Gift Cards
Decide if you'll utilize physical or digital gift cards first. Physical gift cards provide customers with something to give to the receiver as well as continued advertising for your company, but they are more expensive and complex to deploy.
Digital gift cards are becoming increasingly popular, particularly in the wake of the COVID-19 pandemic, and may be easily employed by e-commerce enterprises. These gift cards are less expensive and easier to set up than traditional gift cards.
You'll need a POS system that accepts gift card transactions, regardless of the sort of gift card you choose. EZ PIN gives you everything you want to start a gift card business; from gift cards of known providers to a panel that you can buy and manage your gift cards and a POS Machine to use in your store or company.
Tips To Run a Successful Gift Card Program 
Ordering a large number of gift cards does not guarantee that you will get the most out of your gift card program. These pointers can make the difference between a poor program and one that is wildly successful:
Enable and tell customers to save their gift cards in a digital wallet.
If a physical/digital gift card is ordered online, deliver it within at most 48 hours.
If possible, allow buyers to personalize digital gift cards with personal notes, images, and designs.
Set up your website so that crafted digital gift cards are recognized and appropriate choices are made. A Mother's Day theme template, for example, can lead your e-commerce site to recommend jewelry or other suitable presents.
As a thank-you gift, provide gift cards to loyal or high-volume consumers. This will strengthen their loyalty and encourage them to make additional purchases.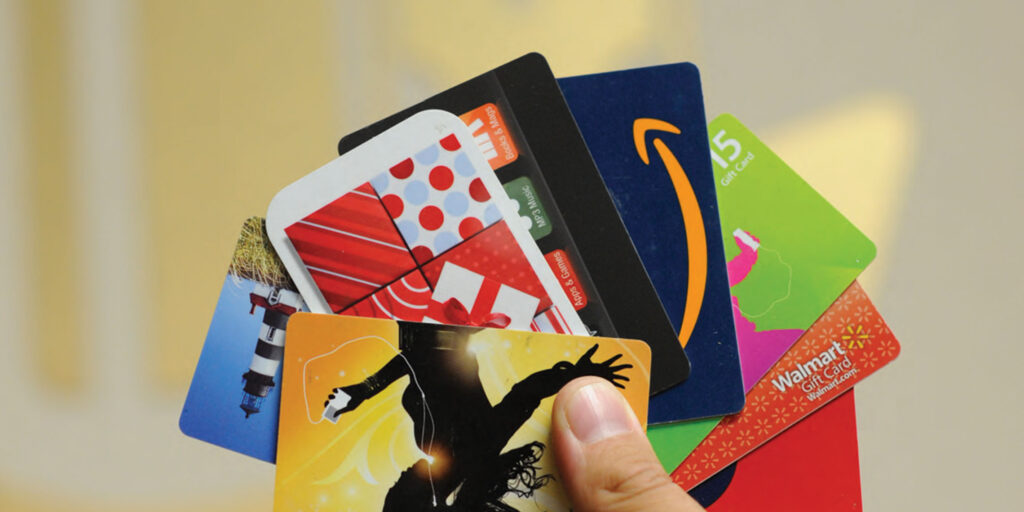 Tactics to Increase Gift Card Sales
Now that you understand how to run a gift card program for your company, here are some tips for selling as many as possible:
Your cards should be prominently displayed. Place your gift cards at the cash register so that consumers can pick one up as a last-minute gift. You might even be able to sell them to larger businesses that sell a rack of different gift cards.
Customers should be given gift cards. Train your personnel to recommend gift cards to consumers who are unsure what to acquire as a present. Gift card banners can be shown on e-commerce sites all year, not only during the holiday season.
On social media, promote gift cards. To market your gift cards, use your social media platforms.
Other local companies can sell gift cards. Inquire with local companies about collaborating on the sale of gift cards at their establishment. Consider selling them gift cards or displaying their brochures in exchange.
Your small business may give gift cards to customers in a few simple steps, potentially increasing revenue. EZ PIN sells you gift cards to expand your small business.