Bass Pro Shops is a leading provider of outdoor goods in the United States. A Bass Pro Shops gift card opens up possibilities for an exciting adventure in the wilderness. Resellers can order Bass Pro Shop Gift Cards from EZ PIN and enhance their sale during holidays and throughout the year.
Load a Bass Pro Shops gift card with any amount between $25 and $200 to use online or in-store. Receive gift card codes and PINs in your email, WhatsApp, SMS or download them from your web-based panel or EZ PIN Mobile Application.
About Bass Pro Shop
Bass Pro Shops, founded in 1971 in Springfield, Missouri, is America's largest outdoor retailer. Bass Pro Shops is a hunting, fishing, boating, camping, and other outdoor gear retailer known for its large, wilderness-themed stores and diverse selection of hunting, fishing, boating, camping, and other outdoor gear, such as outdoor cooking equipment, outdoor footwear, and nature-themed gifts. Bass Pro Shops is also involved in a number of conservation initiatives.
Bass Pro Shops is an outdoor enthusiast's paradise. Bass Pro Shops has an unrivaled selection of high-quality outdoor gear. Everything an outdoor enthusiast could want or need is available here, from the best national brands to local favorites, as well as a large selection of quality "house brand" specialty items designed by the best outdoorsmen in the business.
Bass Pro Shops is the premier retailer of hunting, fishing, and boating equipment. By getting EZ PIN Bass Pro Shops gift cards, your customers can save money on gear for your next adventure. Bass Pro Shops carries the best brands in camping, kayaking, saltwater and ice fishing, hunting, archery, and other outdoor activities.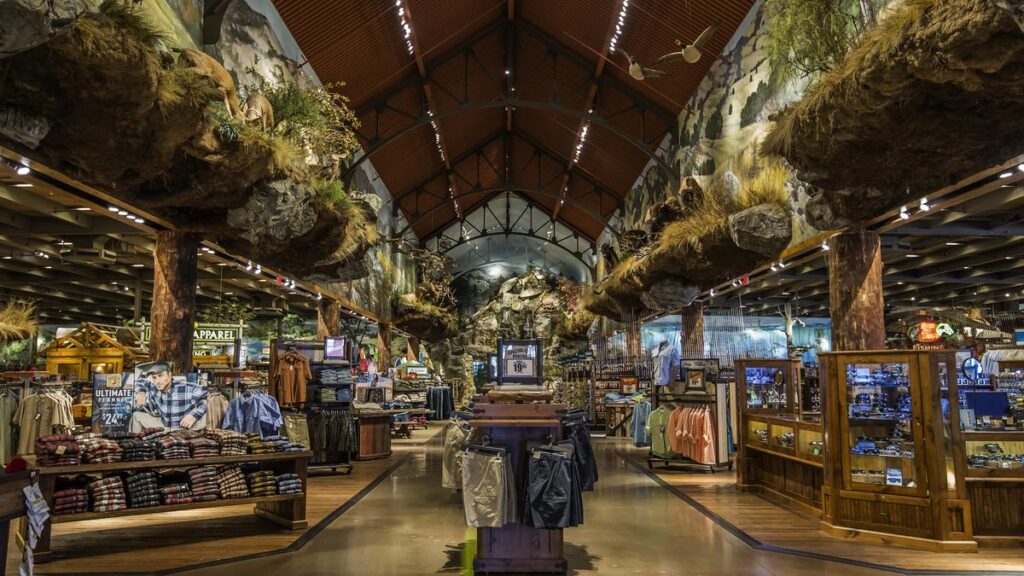 Bass Pro Shops Gift Card can be a perfect product for Christmas and the New Year holidays.
If your customers enjoy the great outdoors, give them a Bass Pro Shops gift card. There is no better way to treat those who enjoy fishing, hunting, or any of the other great American pastimes in the great outdoors.
Bass Pro Shops Gift Cards Delivery
When ordered during normal business hours, most eGift Cards are delivered within minutes.
eGift Cards are typically delivered without incident. A full inbox, an invalid email address, or a spam filter, on the other hand, may prevent the eGift Card from reaching the recipient. Please check your contact information to ensure that an eGift Card has been received.
The eGift Card amounts are only available in US dollars.
If you have any questions or problems regarding placing your order, contact us via [email protected] or submit a ticket on Support.
Bass Pro Shops Gift Card Features
For any occasion, this is the ideal gift for outdoor enthusiasts.
Gift Cards can be used to make online purchases, catalog orders, and in-store purchases at Bass Pro Shops.
The gift card can also be used at Big Cedar Lodge and Islamorada Fish Company.
Gift cards are not returnable or refundable.
The company operates 90 retail Bass Pro Shops and Tracker Marine Centers in the United States and Canada, which attract more than 120 million visitors each year.
Bass Pro Shops Gift Cards Terms & Conditions
Protect this gift card as if it were cash.
Visit www.basspro.com/balance, see any cashier, or call 1-800-494-1100 for customer service or balance inquiries.
This Gift Card can only be used to purchase merchandise, food, and beverages at Bass Pro Shops stores, restaurants, or catalogs; online at basspro.com or big-cedar.com; or at Bass Pro resorts (Big Cypress, Big Cedar, Top of the Rock, or Buffalo Ridge).
This card is not redeemable or exchangeable for cash, check, or credit, except as required by law.
This is not a credit or debit card, and it cannot be reloaded.
This card has no expiration date and is valid until redeemed.
BPIP, LLC is the card's issuer.
Every right is reserved.
The purchase or use of this card constitutes acceptance of the Bass Pro Shops Gift Card Terms & Conditions, which can be found at https://www.basspro.com/shop/en/gift-card-terms, including binding arbitration and the waiver of your right to participate in a class action against Bass Pro Shops.
How to Redeem Bass Pro Shops Gift Card
Navigate to www.basspro.com.
Go shopping for desired products and add them to your cart.
Check out when you're finished.
When entering payment information, enter the 19-digit gift card number and 4-digit PIN number, then click 'Apply' to proceed with the checkout.
Make a copy of the eGift card number.
Present the printed gift card to the cashier at the time of payment.
The cashier will accept gift card numbers displayed on electronic devices. Visit www.basspro.com to find a store near.
EZ PIN Makes Business Easier
EZ PIN makes business easier for both resellers and customers. With the explosive growth of mobile and online shopping, digital gift cards are essential and versatile purchasing tools that drive customer engagement and revenue growth.
Why EZ PIN?
Our cards are available for use right away. We digitally (and physically) deliver genuine gift card codes to your inbox or phone. The fastest way to receive a gift card without leaving your house is via EZ PIN Panel. We can send you your codes in under 10 minutes (for products available in stock) after receiving your order.