A gift card is a pre-paid money card that is typically offered as an alternative to cash by a retailer. These gift cards are sometimes used as cash cards. These can only be redeemed for purchases at particular places and cannot be redeemed for cash. Also, if you're seeking Ferns N Petals Gift Cards Online, you've come to the right place. You can order Ferns N Petals Gift Cards in bulk from EZ PIN and get them delivered within minutes.
Ferns N Petals attempts to provide high-quality goods at reasonable pricing. Customer service is unrivaled, with 5-star evaluations. If you apply for the following Ferns N Petals Gift Card today, you can serve your customers with a perfect product and enhance your sales.
Send Gifts Online – Choose from over 70000 Gifts with Same-Day Delivery.
Ferns N Petals has a plethora of gift cards in all denominations that you can use to expand your business territory and enhance your sale. Allow customers to pick their own (or their loved ones) present and make the most of their special day.
About Ferns N Petals
Ferns N Petals, established in New Delhi, has been helping people celebrate their lives with flowers, cakes, gifts, and wedding accessories since 1914. Ferns N Petals is the market leader in the floral and gifting category in India, and it is also available in 155 other countries.
With its feature-rich iOS and Android App, Ferns N Petals is revolutionizing the concept of gift-giving. While users have a plethora of gifts at their disposal, there is so much more they can do to make situations unforgettable. With Ferns N Petals simple gift finder search, they can find a gift in less than 15 seconds, set reminders for birthdays, anniversaries, and other events, and never miss out any special day.
Other notable FNP App features include numerous payment options, social logins, a pin code finder, midnight/same day/one day/international delivery, notifications for special events, and so on. With so many tools at users' disposal, they've made the gift-giving procedure exceedingly simple for people. Users can deliver fresh flower bouquets, tasty cakes, delicious chocolates, and chocolate bouquets, soft toys, customized presents, and plants anywhere in India and overseas with the FNP App.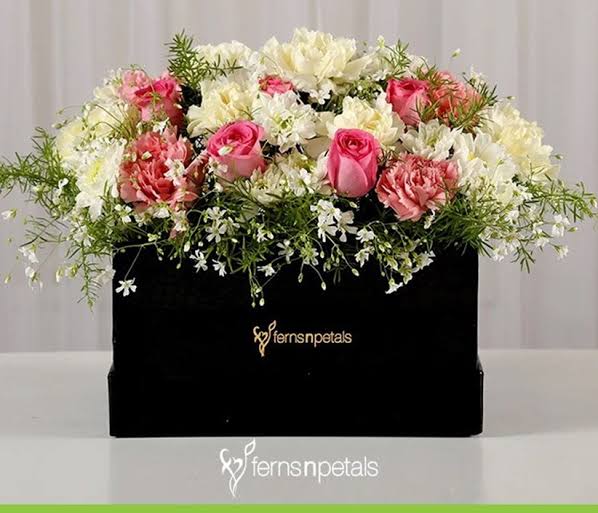 One-Stop-Shop for all Online Gifts for Special Occasions & Memorable Days
Ferns N Petals Gift Cards Features
If you're looking for the perfect product for your customers, Ferns N Petals gift cards and Ferns N Petals gift certificates are here to help. Order Ferns N Petals Gift Cards from EZ PIN and start selling this awesome product. Customers can browse the Ferns N Petals website to find the greatest offers on a wide range of Ferns N Petals cakes, flowers, and other gifting alternatives from hundreds of stores across India and online. Shopping for a bouquet of their favorite flowers should not break the bank. That is why we offer Ferns N Petals gift vouchers and Ferns N Petals digital gift cards to make your business more fruitful and popular.
Ferns N Petals egift cards can be used to purchase existing Ferns N Petals promotions. Ferns N Petals has a wide variety of Ferns N Petals bouquets, cards, cakes, and presents.
Variety of Products to Choose on FNP App and Website
– Flowers
– Cakes
– Chocolate Bouquets
– Personalized Gifts
– Plants
Ferns N Petals products can be used for the following occasions:
– Birthday Flowers, Cakes, and Gifts
– Anniversary Flowers
– Love and Romance Valentine's Day Flowers and Gifts
– Diwali Gifts
– Congratulations, Good luck, Thank You, Miss you Reminders
– Sympathy and Funeral
– Karwa Chauth Gifts
– Mother's Day, Father's Day, and Friendship Day
– Raksha Bandhan and Bhai Dooj
– Christmas Wreaths and Gifts
How to Redeem Ferns N Petals Gift Cards?
Ferns N Petals Gift Voucher/Gift Cards can be used to buy a wide range of products in the following ways:
– Log in at www.fnp.com.
– Add the product to your shopping basket after you've chosen it.
– Click on the "Have a Discount Coupon" tab on the shopping page.
– Enter the Gift Voucher and click on the Apply button.
– Proceed to the checkout and pay the balance required.
Ferns N Petals Gift Cards Terms & Conditions
– The recipient is regarded to be the holder of the Ferns N Petals Gift Cards.
– Partial redemption is permitted; however, no refund or credit note will be granted if a gift card is unused or partially used.
– Once a gift card has expired, it cannot be revalidated.
– Ferns N Petals gift cards will only be accepted at FNP.com, however Ferns N Petals reserves the right, in its sole discretion, to add or delete a category or product from the list without prior notice.
– This gift card cannot be redeemed on particular block out days; Ferns N Petals reserves the right to add or delete any data at any time.
– Any issue should be directed to the company from which the gift card was obtained; the company's decision is final.
– Multiple gift cards CANNOT be applied to a single bill.
– Please contact your EZ PIN account manager if you have any issues, and if the problem is still not resolved, please visit FNP Help Center or call us for instant assistance.
– Gift Vouchers cannot be used at FNP Outlets directly.
Why EZ PIN?
Our cards are available for use right away. We digitally (and physically) deliver genuine gift card codes to your inbox or phone. The fastest way to receive a gift card without leaving your house is via EZ PIN Panel. We can send you your codes under 10 minutes (for products available in stock) after receiving your order.
EZ PIN Makes Business Easier
Why you should choose EZ PIN:
It's Quick and Easy
Your Gift Card will be available in minutes after you place your order.
You Have Lots of Choices
Choose from a variety of gift cards and order your desired one.
There are Products for Special Events
This is the ideal last-minute product for ceremonies, graduations, holidays, housewarmings, and more, with options for email, text, and print-at-home or in-store delivery.
It's Simple to Redeem
There is no need to carry or misplace a physical gift certificate. The recipient can redeem the monies at any time by going online. There are no monthly costs and gift cards never expire.
We are concerned about the security of your personal information. We follow widely established standards to protect personal information provided to us, both during transmission and once received, including encrypting sensitive information, such as payment card information, during transmission. You can contact us at [email protected] if you have any questions or problems concerning the protection of your personal information.