Despite the fact that Steam is an online service, it still sells gift cards that can be purchased in a variety of shops and of course in EZ PIN. A physical gift card is a nicer alternative to writing an activation code at the bottom of a standard birthday or Christmas card. EZ PIN also sells Steam gift card in digital form, allowing you to complete the transaction completely online.
What is Steam Gift Card?
A Steam Gift Card is a digital card that contains a particular amount of credit that your customers and gamers can apply to their Steam Wallet account's funds. It allows them to buy items from the Steam store. Many gamers are familiar with Steam, one of the most well-known gaming platforms that provides millions of users with up-to-date gaming content.
Steam Gift Card Features
A Steam card is a gift card that can be used to get credit on Steam.
Steam cards provide credit that can be used to purchase games, downloadable content, and in-game content.
Steam cards are usually available in denominations of $20, $30, $50, and $100. Digital cards are available in $5, $10, $25, $50, and $100 denominations.
Steam cards can be purchased either physically or digitally from EZ PIN online and local stores.
How to use a Steam Card?
The value of Steam Wallet codes varies, and you can see them all in our Steam Gift Cards set on EZ PIN Panel. It's simple to use a Steam Gift card; all you have to do is redeem it in Steam account by following the simple steps outlined below. When you or your customers unlock Steam digital gift card (for example 50 USD) in your Steam account, 50 dollars will be transferred directly to Steam Wallet, and your customers will be able to use their virtual funds in a matter of seconds. So, whether you're expanding your business or looking for a great product for a gamer customer, a Steam Gift Card is a fantastic option!
What is the value of Steam Card?
Steam gift card codes can be exchanged for a variety of cool items on the Steam website, in addition to being a quick way to add funds to Steam Wallet account. Because of the large range of gaming content and the safe money distribution within the platform, the Steam platform is trusted by a large number of users around the world. Transactions will be safe and take just a few moments. Now, as for the vast range of gaming content available on the website, video games, DLCs, game accessories, and much more are available, all of which are up to date! Get your Steam Gift Card right away from EZ PIN and start selling one of the best products ever!
How to activate a Steam Gift Card?
In just a few easy steps, you can redeem Steam Gift Card:
Log in to Steam account;
Click account name in the top right corner of the site, then Account details;
Click Add Funds to Steam Wallet;
Click Redeem a Steam Wallet Code;
Type in a 16-digit Steam Gift Card code from your email; and then click Continue. If this is the first time you've used Steam Wallet credit on an account, you might be asked to enter your customer current address to decide the correct currency.
How to Send a Digital Steam Card
When logged into your Steam account, go to this page on the Steam website. Choose the value of the card you want to give.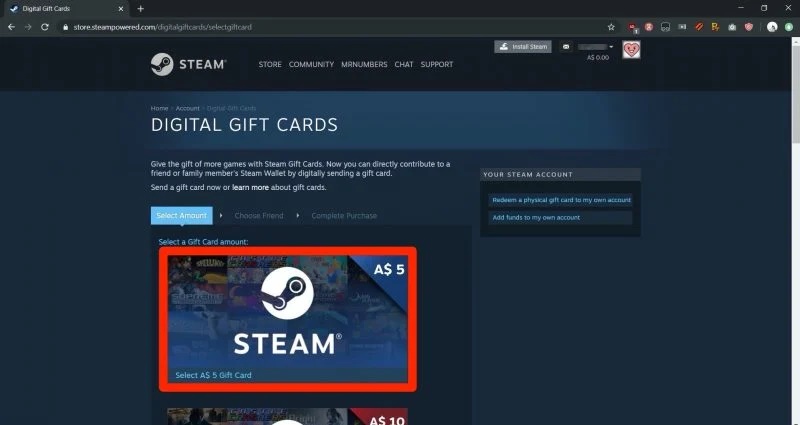 Choose the one from your Steam friends/customers list to whom you'd like to send a card. The recipient must be a friend of yours in list.
Steam will provide you with a text area where you can write a note to include with the card. This is a good gesture, but it's an optional measure.
You'll be asked to choose a payment form. Most major credit cards, as well as PayPal, are accepted by EZ PIN and Steam.
You'll be asked to agree to the Steam subscriber agreement and given one last chance to change your mind about your order.
Steam will send you an email to confirm the purchase, and your digital Steam card will be sent to you right away.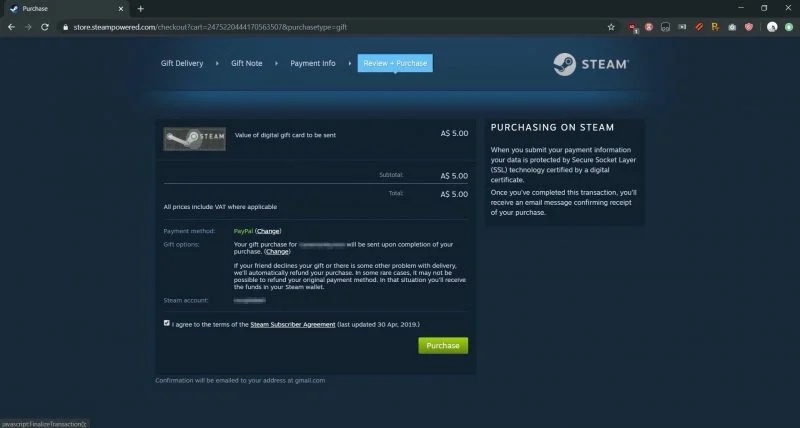 If you enjoyed your shopping experience and need more gift cards, check out our EZ PIN gift card set!
Final words
EZ PIN has evolved and extended its products portfolio to meet the demands of all of its consumers and clients since launching its first office in 2020. EZ PIN has a wide range of gift cards and game cards. 24 hours a day, 7 days a week, get instant digital distribution, superb customer service, and supreme payment comfort!